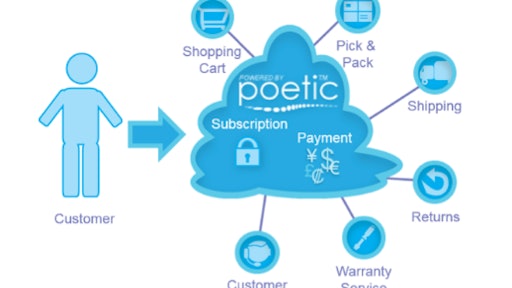 ModusLink Corporation, a wholly owned subsidiary of ModusLink Global Solutions Inc., a global, omnichannel technology and fulfillment provider, announced the launch of its Subscription Solution, available worldwide. The platform-agnostic solution, powered through ModusLink's enterprise-class Poetic software, is the only global full omnichannel offering for creating and managing online subscriptions. Its functionality includes multiple payment options, financial management and tax services, entitlement management, systems integration, invoicing and fulfillment—all in one, fully-integrated solution.
The ModusLink Subscription Solution is a flexible, easy-to-use offering that follows the entire subscription lifecycle process from the initial subscription order through pre-delivery notification to ensure optimal customer service. Users have the option of integrating ModusLink Subscription Solution either as a standalone offering or via ModusLink Poetic Service Cloud, which enables end customers to tailor their subscriptions from product selection to delivery schedule directly in a merchant's online store and modify it at any time.
The solution also extends beyond the traditional scope of subscription management to help merchants maximize revenue and growth opportunities through this line of business. Built-in financial management services empower merchants to expand their global footprint and find new opportunities by tackling country- and industry-specific payment challenges, helping them grow as their e-commerce strategy evolves. A cloud-based business intelligence platform within the solution gives merchants tools for real-time reporting, monitoring and analysis.
Subscription management features include:
Multiple subscription and recurring payment options based on business needs. The options are merchant-initiated subscription billing in which merchants offer their own flexible subscription and marketing models, keeping full control of all billing parameters on their systems; an automated billing plan in which stored payment plans allow the collection of regular payments from buyers in a predefined automated way; and the high-end model in which merchants can manage recurring payments, and access rights to intellectual property, content and services for all their products on premise or in the cloud.
Subscription registration integration with resellers and partner systems.
Support of built-in and external web store integration for subscription ordering.
Fixed calendar dates, floating time periods, and count-based and registration anniversary-based delivery schedules.
Automated email notification deliveries and renewal fulfillment.
Payment features include:
All transactions routed and processed through a single integration.
Mobile point of sale, e-commerce, m-commerce and e-terminal (MOTO) all configured and managed through a single dashboard.
Full merchant control of payment management, and the ability to request varying debit amounts and/or frequencies (e.g. first month free or changing payment amounts).
Global scalability features include:
Immediate access to more than 250 global and localized payment acquirers.
Cross-border processing and local acquiring on a global scale.
Multi-region, multi-language and multi-product line subscription program structures.
Full coverage of value-added tax (VAT), indirect tax models, import/export taxing and reporting, Intrastat reporting, and support for regulatory or industry body compliance, such as the European Waste Electrical and Electronic Equipment Directive (WEEE).
Risk management features include:
Over 120 risk checks, including tokenization for recurring payments, to strongly protect against fraud and chargebacks.
Full compliance with the Payment Card Industry (PCI) data security standard.
"As companies look to expand their global footprint, the proper management of subscription services is critical in order to achieve greater revenue potential," said Murt O'Donnell, director of e-solutions at ModusLink. "Having a flexible, fully integrated subscription solution allows our customers to easily scale their sales channels, while maintaining the control to manage it in the way that's most impactful for their business."
Companies in this article