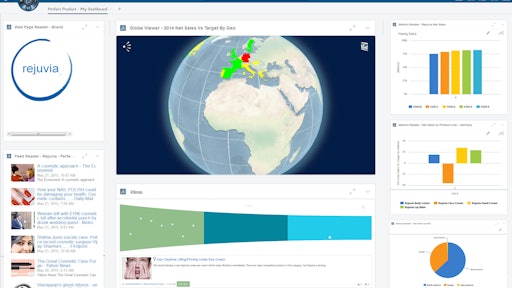 Boston—July 14, 2015—In June, Dassault Systèmes announced the launch of its Perfect Product industry solution experience for consumer packaged goods companies. Perfect Product enables teams to understand consumer needs, design and test the formula for efficacy and manufacturability, optimize its cost using raw material substitutions, ensure that it complies with regulatory requirements and analyze how it performs in the market.
Following its Perfect Shelf and Perfect Package industry solutions, Dassault Systèmes is aiming to change the way the consumer packaged goods and retail industries tailor their offerings. With Perfect Product, beauty, personal care and household good brand and contract manufacturers are provided with a digital collaborative platform to discover and develop high-performing product design formulas. Perfect Product assists in reinforcing brand equity and inspiring customer loyalty by delivering on the product promise. Using Perfect Product formulas, companies can reduce product sourcing costs by up to 30 percent by driving a design-for-cost sourcing strategy. Companies can also reduce time to develop by up to 20 percent by enabling people, processes and systems to collaborate through the same business platform.
Companies can now design the key elements of product, package and shelf in a single digital platform, with the agility to create better products for the consumer at a lower cost while reducing the risk of failure. Dassault Systèmes is the industry-leading 3DEXPERIENCE company providing businesses and people with virtual universes that take concept to reality through sustainable innovations. Its world-leading solutions transform the way products are designed, produced, and supported. The launch of the "Perfect Product" is yet another collaborative solution that looks to foster social innovation and expand possibilities for the virtual world to improve the real world. The group brings value to over 190,000 customers of all sizes, in all industries, in more than 140 countries.
Companies in this article
Request More Information
Fill out the form below to request more information about
Digital Collaborative Platform Discovers and Develops High-Performing Product Design Formulas