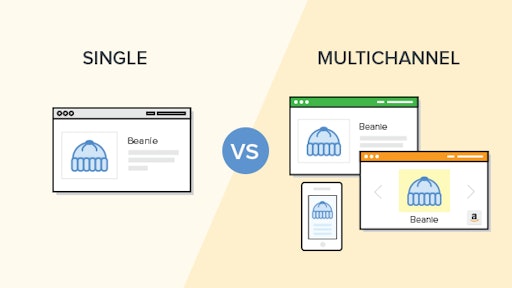 San Francisco—July 10, 2015—Stitch Labs, an inventory control and multichannel selling solution, released a report showing that small to medium-sized retailers who sell through multiple channels see a significant increase in revenue over single-channel sellers, with a particular focus on Amazon as a major contributor to increased order volume.
Stitch Labs investigated more than 7 million orders from January 2015 to May 2015 to determine what a successful retailer looks like, comparing single-channel sellers who only run their business through one marketplace or their individual web store with multichannel sellers who leverage a mix of a branded website and marketplaces. The findings can help retailers better prepare for the 2015 holiday season by increasing revenue and focusing on the most profitable channels before the big rush hits.
Additional results include:
Overall, for retailers who have shopping carts, as the number of marketplaces such as

Amazon

or eBay increases, average revenue increases and average order volume increases, but average order value decreases.
On average, shopping cart customers who also have a single marketplace make 38 percent more revenue than shopping cart customers with no marketplace. Those who have two marketplaces make 120 percent more revenue.
Retailers who sell on two marketplaces see 190 percent more in revenue than those who only sell on a single marketplace.
Single-channel sellers with a shopping cart do 18 percent fewer orders than their marketplace counterparts, however, they tend to have 129 percent higher average order volume.
On average, retailers who sell on two channels have double the revenue of retailers that sell on only a single channel.
Customers selling on

Amazon

have more average orders than any other channel—shopping cart or marketplace.
Retailers who sell only on

Amazon

have more than four times as many orders as retailers who sell through either

eBay

or a shopping cart.
Retailers often fear that adding marketplaces may lead to more complexities and fees. This analysis proves the added fees pay for themselves, and not just through increased sales on that one particular marketplace, but also magnified sales across all sales channels.
"Selling across multiple channels will always bring additional fees and work for retailers, regardless of where and how they sell. But it's a small price to pay in order to double the size of your business," said Brandon Levey, CEO of Stitch Labs. "Stitch's automation is key to building a successful multichannel sales strategy for retailers. Managing your inventory, operations and sales within one location reduces the complexities, and increases the opportunity to grow your entire business."

This analysis was based on over seven million orders from January 2015 to May 2015. The order history of over four thousand small and medium-sized businesses using Stitch Labs were sampled. Shopping carts considered include Magento, WooCommerce, Shopify, and BigCommerce. Marketplaces considered include Amazon, eBay and Etsy. For the purpose of this analysis, only orders in USD and CAD were included.