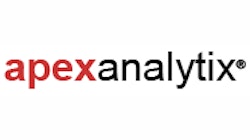 Greensboro, N.C.—Dec. 4, 2014—APEX Analytix, a provider of services and software to safeguard disbursements, identify fraud and improve performance across the procure-to-pay cycle, released the next generation of its FirstStrike Supplier Portal. The portal is an easy-to-use solution that automates the supplier registration process, provides 24/7/365 self-service to suppliers, dynamically presents discounts, and offers an e-invoicing and purchase order flip capability.
The newly enhanced supplier portal integrates seamlessly with AEX Analytix FirstStrike procure-to-pay controls and analytics technology to leverage its complex algorithms to market cash discount programs, identify and achieve savings via electronic invoicing, and perform mass communications via voice, text and email. It also enhances fraud detection and prevention when incorporated with FirstStrike Fraud Detect software. The portal electronically registers key supplier information and keeps it current; facilitates Foreign Account Tax Compliance Act of 2009 (FATCA) compliance; dynamically creates required tax forms; and validates addresses, identification numbers and banking information.
Completely customizable, the portal may also be used independently, ensuring accurate, complete and up-to-date information in the vendor master, as well as driving value for accounts payable with dynamic discounting and cost reduction capabilities
"Traditionally registering new vendors required untold man hours—inputting information, gathering required tax forms, validating banking information and more," said Walt Kristick, chief information officer for APEX Analytix. "But the real danger is that inputting supplier information is fraught with the risk of human error. FirstStrike Supplier Portal not only cuts the cost of onboarding vendors, [but also] it provides a simplified system that drastically reduces the chance of incorrect information in the system."
Independent research by Ardent Partners recently revealed that implementing a vendor portal is the second most important future initiative for accounts payable leaders—second only to reducing staffing numbers/costs.
"Done correctly, a supplier portal should simplify life," said Akhilesh Agarwal, vice president of research and development at APEX Analytix. "FirstStrike Supplier Portal does just that, allowing the global businesses we serve to put their focus and energies where they belong—growing their business."
FirstStrike Supplier Portal incorporates a business rules engine that makes it easy for users to change and configure how the software reacts and appears. Users have access to a library of more than 5,000 configurable rules that were proven valuable to clients with early access to the product. Branding FirstStrike Supplier Portal with the user's company identification is also completely customizable via the business rules engine.
Additionally, FirstStrike Supplier Portal offers:
International features, including support of 13 languages and counting.
Bi-directional integration with the user company's SAP database.
e-Invoicing and the ability for vendors to save time and reduce errors by flipping electronic purchase orders to invoices.
Dynamic discounting, an automated trigger that provides discounts as authorized by the company user.
Because of the configurable rules engine, FirstStrike Supplier Portal can be implemented and populated in weeks for a fast return on investment.
Companies in this article
Request More Information
Fill out the form below to request more information about
APEX Analytix Releases Next Generation of its FirstStrike Supplier Portal