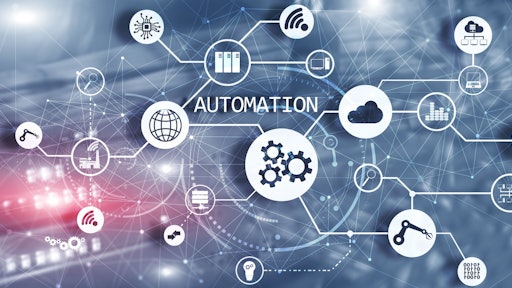 Funtap AdobeStock_334004717
Robotic process automation (RPA) is a form of process automation that can handle repetitive, transactional, rules-based tasks that require little or no human oversight. By taking over the performance of routine and highly manual tasks, RPA frees time for humans to focus on work that truly drives value and innovation in supply chain and beyond.
RPA is often positioned as a game-changing technology that helps organizations to achieve cost savings, better process performance and numerous other benefits. But given all the hype around automation, it's all too easy to underestimate the amount of time, labor, and other resources that it takes to implement RPA effectively. After sharing data on the prevalence of RPA in supply chain, this article describes several foundational elements that need to be in place for RPA to deliver value to the organizations that adopt it.
RPA adoption is on the rise
RPA adoption and planned adoption is on the rise in supply chain. A large majority of respondents to an RPA quick poll distributed by APQC in 2022 reported that their supply chain is either currently using RPA (39%) or currently exploring the use of RPA (46%).
RPA adoption is fairly consistent across different supply chain functions. About a third of respondents have already adopted RPA for supply chain planning, sourcing and procurement, logistics and warehousing, and manufacturing. Similar percentages of respondents across all four areas report that they are extremely or very likely to adopt RPA in the future. A slightly higher percentage of respondents say they plan to implement RPA for supply chain planning in particular:
» supply chain planning: 66% of respondents;
» sourcing and procurement: 62%;
» logistics and warehousing 64%; and
» manufacturing: 65%.
Putting the foundations in place for RPA
Organizations that benefit from RPA don't simply flip a switch to achieve those benefits—RPA needs the right governance structures, the right team, and the right deployment options to work effectively.
Governance Models for RPA
Deciding to adopt RPA for supply chain is the easy part. Governance is critical to ensure that someone is accountable for automated processes, that automation is performing as it should, and that the right controls are in place. Governance models for RPA tend to take one of three different forms:
1. Centralized. A core team or a center of excellence (COE) is responsible for establishing RPA standards and providing guidance across all business units.
2. Decentralized. Independent teams or COEs govern RPA and provide support within each business unit.
3. Hybrid. A centralized RPA team provides support for RPA teams or business unit COEs across the enterprise.
It is important to note that these structures are not set in stone—organizations can and often do change RPA governance structures over time. When RPA is first introduced, it makes sense to have a centralized governance model with a core team or COE who can get RPA up and running. As team, members across an enterprise build RPA skills, the organization can move to a hybrid model in which a central COE provides resources and guidance to RPA partners who are embedded in the business. Some organizations eventually move to a decentralized model in which independent RPA COEs or teams provide governance for their respective areas.
Common roles and responsibilities for RPA
Effective automation requires team members who can carry out the following roles and responsibilities, both on the technical side and the business side of RPA:
» RPA Sponsor: Initiates the idea of automation, underwrites resources, and protects progress into business adoption.
» RPA Project Manager: Forms the RPA team to build the setup and deliver the program across business units. Manages the RPA team and the business stakeholders to achieve the expected automation results.
» RPA Change Manager: Creates a change and communications plan aligned to project deliverables in order to ease RPA adoption within the organization.
» RPA Infrastructure Engineer: Handles server installations and troubleshooting.
» RPA Solution Architect: Defines the architecture of the RPA solution and is the guardian of the overall performance of the agreed-upon solution.
» RPA Service Support: Provides first-line support for the RPA solution deployed.
» RPA Developer: Designs, develops, and tests the automation artifacts.
» RPA Business Analyst: Creates the process definitions and process maps used for automation.
There does not need to be one team member for each of these roles—all of them could in theory be carried out by just a few team members if needed.
RPA deployment options
There are two common approaches to managing RPA deployment. In the enterprise orchestrator approach, an organization houses a roster of active automations (or bots) in a centralized platform. Bots go through a full development cycle that begins with an idea for automation, followed by a large, coordinated effort to document requirements, create a testing plan, build the automation, test the automation, deploy it and monitor it going forward.
This approach is more time-intensive because more team members and steps are involved, but it does mean that enterprise-level bots can be leveraged by multiple users. This approach also allows an organization to begin to build a workflow library for common types of tasks, which helps to expedite automation for future projects.
Citizen development is another common deployment method for RPA. In this approach, a team member with automation tools creates his or her own bots using the same level of access with which she or he is typically provisioned. This approach allows an individual to create automation for his or her own workflows and thus enables faster RPA deployment, but it carries a heavier skills burden for teams and individuals.
Looking ahead
By implementing RPA, supply chain organizations hope to achieve benefits like:
» saving time on repetitive tasks,
» improving quality,
» reducing risk and increasing compliance,
» cutting costs,
» increasing capacity without increasing headcount, and
» reallocating employees to higher-value tasks.
Numerous organizations have achieved these benefits and more, making RPA well worth the investment. But to achieve these benefits, supply chains need to put the right foundations in place. Effective governance structures, roles and deployment approaches all help to ensure that RPA projects are carried out in a systematic way that adds value to an organization's supply chain and the entire enterprise more broadly.