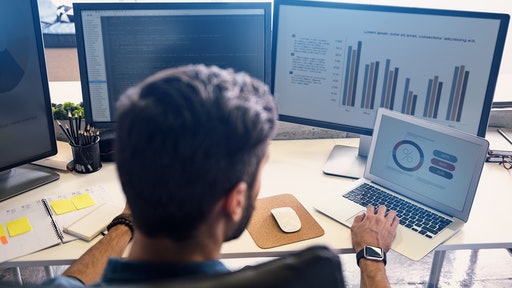 Getty Images
Amid the grind to meet consumer expectations by promptly delivering packages and oversized shipments, delivery teams collect various forms of documentation to ensure transparency between the sender and receiver. But for anyone who's tracked shipments by manually entering delivery information into lengthy spreadsheets and programs, it's no secret that documenting bills of lading (BOL), delivery slips, invoices and other clearance paperwork is one of the most tedious, time-consuming tasks.
Largely leveraging outdated processes and technology, the industry needs modernization to transform back-office activities to navigate emerging last mile challenges, climate change pushback and supply chain challenges impacting inventory.
An approach prone to error
It's easy to transcribe something incorrectly, especially considering the demanding performance metrics supply chain employees are tracked against. Yet instances like these lead to upwards of 12% of revenue loss and unmeasurable time loss for correcting inaccuracies.
Completing forms and transcribing information for any document should be effortless. The issue isn't one-sided but rests in inefficiencies across the industry. To no fault of their own, industry professionals are prone to making mistakes when backlogs are mounting and stress is intensified. While media headlines favor a future where self-driving trucks, robot-like machinery, and delivery drones solve the toughest supply chain challenges, the real magic happens behind the scenes.
As data-keying teams face levels of variability due to the numerous customer-created formats and inconsistencies, nuances and legibility with handwriting, embracing the adoption of alternative solutions like machine learning-backed intelligent document processing will support the most significant lasting changes.
Intelligent document processing as a competitive differentiator
To reduce back-office mistakes, which directly contribute to revenue loss, and adjust to today's macro trends like inflation and the Great Resignation, automation will serve as a competitive differentiator for the logistics industry. Introducing flexible and intelligent technology can help with seemingly small, yet significant tasks. But to succeed, removing the outdated, legacy technology and processes holding innovations back is imperative.
Intelligent document processing (IDP) is a modern approach that improves accuracy in paperwork processing and mitigates backlogs, making it an exceptional solution to the industry's document challenges. IDP uses artificial intelligence (AI) and machine learning to enable the end-to-end automation of document-centric business processes for structured and unstructured formats—like PDFs, images and handwritten forms. Not only does the approach convert complex, unstructured document formats into structured, machine-readable information, but it does so faster, with greater accuracy and more efficiently than a human being can. For example, when delivery drivers are faced with high volumes of documents and pressing delivery schedules, IDP can enable back-office automation to alleviate some tedious, mundane tasks.
With the help of IDP, organizations will retain revenue traditionally lost to paperwork inaccuracies, and employees can focus on high-level tasks without getting buried in mundane paperwork. The biggest winner, however, is the customer. With the support of automation, customers confidently track information and experience a quicker time to service.
3 benefits to automation
When it comes to automation in the delivery and logistics industry, many reap the benefits of three specific areas: accurate processing, organizational agility and flexible extraction.
Accurate processing.

Companies can automate against a chosen accuracy level, ensuring that checkboxes representing previously lost revenue were no longer missed. This reduces data discrepancies that negatively impact revenue.

Organizational agility.

Cutting-edge automation allows for customization, enabling organizations to overlay their business process with the power and flexibility of machine learning. When regulatory changes occur or demand increases, it's easy to adjust and remain agile.

Flexible extraction.

Automated organizations can confidently classify, extract, and enrich data from various formats, from hand-written BOLs to delivery slips with necessary revenue information.
Tomorrow's leading organizations understand that with high demand, time is of the essence. These same organizations harness automation to outperform expectations, scale with volume and transform business operations—minimizing mundane tasks and empowering a future of human-machine collaboration.
Today's world is faced with inflation, labor shortages, climate concerns, high oil prices and many other variables that can contribute to delays and customer service concerns for logistics and supply chain. The industry has the unique opportunity to seize the power of automation to revolutionize the backend and how deliveries are made, creating an ideal situation for delivery services, the employees who serve them, and the customers awaiting their goods. By reducing variability in documentation and clearance paperwork, those in the industry can better handle ever-changing macro trends.