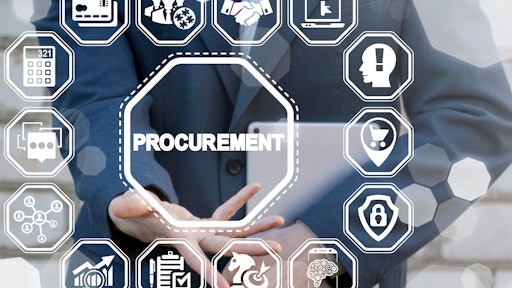 wladimir1804 AdobeStock_168695055
Procurement operating costs at typical companies increased for the first time in more than a decade this year, in response to unprecedented uncertainty, including supply disruptions, inflationary pressures and environmental, social, and governance initiatives, according to new research from The Hackett Group, Inc.
"Inflation, supply disruption, and other factors presented unprecedented challenges over the past year, driving up costs to support both typical and Digital World Class procurement organizations. But despite this, the performance advantage achieved by Digital World Class procurement organizations is more impressive than ever. They are better at navigating uncertainty, risk, and complexity than peers because they are more disciplined at maintaining strategic focus and more adaptive to rapidly changing circumstances. In large part, they do this by harnessing actionable data more effectively, which enables them to deliver faster and better insight, and make better decisions," says senior research director Amy Hillcox.
"To achieve their impressive performance improvements, Digital World Class organizations obviously focus procurement strategy on technology enablement. But to truly unlock the potential of technology, they also invest appropriately in the five other areas as well: data and advanced analytics; modern cloud architecture; evolving their operating model; more effective business partnering; and improved talent management," says principal Chris Sawchuk.
From The Hackett Group:
Despite increases in year-on-year operating costs, Digital World Class procurement organizations excel at

cost optimization

compared to typical organizations,

the report found.

They now operate at 21% lower cost than their peers and have 32% fewer staff. In addition, Digital World Class procurement organizations see improved resiliency, provide their companies with greater business value and demonstrate higher levels of business excellence across a wide array of key metrics. For example, they drive nearly two times more savings due to spend cost reduction, generate a 2.4 times higher ROI, are 86% more likely to be viewed as a valued partner, and see 76% lower process costs per order. As a result they are better able to navigate uncertainty, risk and complexity because they have greater strategic focus and are more adaptive to changing circumstances.

Because of their lower operating costs, Digital World Class procurement organizations now have a $6 million annual cost advantage over their peers (for a typical $10 billion enterprise), the research found. The data concluded that companies with at least one business services function operating at Digital World Class levels see a five-year average performance premium over their industry medians. These include an 80% higher net margin, 24% higher earnings before interest, taxes, depreciation and amortization margin, 89% greater return on equity and 44% higher total shareholder return.