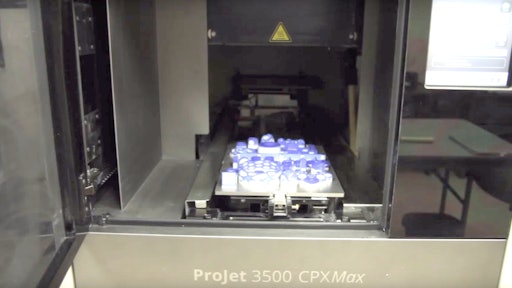 Shapeways is an excellent tool for learning about the capabilities of 3D printing and the difference between printing materials. The appeal of Shapeways, however, goes beyond individual 3D printing enthusiasts and extends to major corporations, as evidenced by a new strategic partnership between Shapeways and the Panalpina Group, a Swiss provider of supply chain solutions. Among the central facets of its business are its logistics manufacturing services (LMS), which include manufacturing assembly and testing, distribution, installation and repair, among other services. In October, it bought its first 3D printer and began exploring the role additive manufacturing could play in its company, particularly in the LMS area. It was pleased with the results and is now ready to further integrate 3D printing into its business.
"3D printing is one of the most exciting frontiers of digital transformation. It stands for the convergence of the real with the virtual world—and it has the potential to dramatically change the traditional manufacturing and logistics industries," said Mike Wilson, global head of logistics for Panalpina. "3D printing is ideal for bringing production closer to the end user and aiding in mass personalization."
By partnering with Shapeways, Panalpina now has access to the 3D printing platform's wide range of printers, printing materials and software solutions, not to mention the collective experience and expertise of the Shapeways staff. Shapeways, in return, benefits from Panalpina's wide geographical and market range. The supply chain company has a presence in nine major industries, with around 500 offices in 75 countries, plus partner companies in an additional 90 countries, giving Shapeways potential opportunities for significant geographical expansion. In addition, Panalpina can offer Shapeways plenty of support in the areas of manufacturing, distribution and logistics.
"Panalpina is ideally suited to assist with the final steps in the manufacturing process, including last-mile delivery," said Shapeways CEO Peter Weijmarshausen. "In addition, it is investing in its own 3D printing research and capabilities. This demonstrates how committed and serious Panalpina is about the technology, making it an ideal partner for us."
To read the full story, please click here.