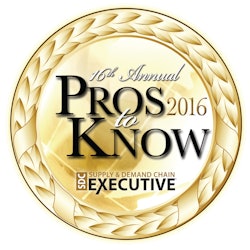 Fort Atkinson, WI—Feb. 17, 2016—Supply & Demand Chain Executive, the executive's user manual for successful supply and demand chain transformation, is pleased to announce the 16th annual listing of Pros to Know in the supply chain industry.
Supply & Demand Chain Executive recognizes Provider Pros and Practitioner Pros, including teams. The Provider Pros to Know is a listing of individuals from a software firm or service provider, consultancy or academia who helped their supply chain clients or the supply chain community at large prepare to meet the significant challenges in the year ahead. This year's list includes more than 200 Provider Pros to Know.
The Practitioner Pros to Know is a listing of exceptional corporate executives at manufacturing and non-manufacturing enterprises who are leading initiatives to help prepare their companies' supply chains for the significant challenges in the year ahead.
This year's Practitioner Pros to Know list also includes recognition of seven supply chain teams.
"Supply & Demand Chain Executive congratulates the 2016 Supply & Demand Chain Executive Pros to Know recipients," says Ronnie Garrett, editor of Supply & Demand Chain Executive. "We commend recipients for their achievements. Their accomplishments offer a roadmap for other leaders looking to leverage the supply chain for competitive advantage. Their efforts in developing the tools, processes and a knowledge base for supply chain transformation, as well as in promoting new approaches to supply chain enablement, earned these individuals a rightful place in this year's Pros to Know listing."
The March issue of Supply & Demand Chain Executive will feature more detail on many of these honorees, including the name of the Pro of the Year. Here are this year's winners.
Provider Pros to Know
Jon Gustafson, Shivaz Sekhon and Stuart Smith, 4SIGHT Supply Chain Group; Trevor Read, Agistix; Hannah Kain, Lisa Dolan and Subu Subramanian, ALOM; Glenn Gorman and Thomas K. Ng, Amber Road; Michael Shaw, American Council of Sourcing & Procurement; Blake Shumate and Jim Briles, American Global Logistics; Brad Steger, Kevin Plets and Steve Adams, Aptean; Matthew York, Ardent Partners; Marcel Vollmer and Michele Sarko, Ariba; Clark Johnson and Jason Averill, Avercast; Dave Paulson and Robert Brenner, Avnet; Kevin Hoyle, Louisa Gooding and Roger Leyden, B2BGateway; Chase Sowden, Barcoding, Inc.; Marvin Logan, Bastian Solutions; Ad van der Poel, Basware; Jeff Bordinhao, Baxter Planning Systems; Marc Kalman, BizSlate; Greg White, John Moffit and Rod Daugherty, Blue Ridge; Charles (Jake) Barr, BlueWorld Supply Chain Consulting; Jennifer Vander Zanden, Breakthrough Fuel; Aaron Rudd, BROWZ; Dave Gershon, Eric Moriarty and Steve Marbit, B-Stock Solutions; Kelly Barner, Buyers Meeting Point; Colby Beland, CaseStack; Richard Burden, Celestica; Curt Cote, Derrick Moreira, and Kelly Hahn, Censeo Consulting Group; Darren Jorgenson, Kirk Waldrop and Mike Eaton, CHAINalytics; Ann Grackin, ChainLink Research; Drew Merrill, CHEP Pallecon Solutions; Derek Rickard and Don Heelis, Cimcorp; Simon Drexler, Clearpath Robotics; David Landau and Mark Nix, Cloud Logistics; Brian Hume and Tom Welsh, Comprehensive Logistics; David Lindeen, Corcentric; Andrea Morton, Ara Arslanian and Gary Como, Corporate United; Jim Gaskell, Crown Equipment; Patrick Grady, Deem Inc.; Bill Harrison, Demand Management, Inc.; Greg Anderson, Michele Myers and Wes Willoughby, Directworks.
Jim McLafferty, DMW&H; Ann Drake, DSC Logistics; Ariel Weil, DynaSys (division of QAD); Doug Waggoner, Echo Global Logistics; Alex Klein, Ian Bolger and James Jenkinson, Efficio; Ed Rusch, Ted Higuchi and Vince Squillacioti, Elemica; Mike Jackson and William Gindlesperger, eLynxx; Jimmy Benefield, enVista; Craig McCollum, Epicor Software; Ken Fleming, Eyefreight; Shay Sidner, flexis North America; Jason Denmon, Juan Recondo and Patti Satterfield, Fortna; Ian O'Brien, Four51; Shariq Mansoor, FusionOps; Kirit Goyal, Gazelle Information Technologies; Shankar Iyer, GEP; Sergio Retamal, Global4PL; Steve Cochran, Global Healthcare Exchange; Robert Rudzki, Greybeard Advisors; Kurt Cavano, GT Nexus; Uwe Bald, Hermes; Grant Watling, HICX Solutions; Nick Manolis, HighJump; Bill Leedale, IFS; Martyn Gill and Michael Lyle, InfinityQS International; Curtis Greve, Inmar; Jeff Karrenbauer, INSIGHT Inc.; Doug Van Wingerden, Insight Sourcing Group; Elizabeth Connell and Virginia Thompson, Integration Point; Blair Peterson, International Asset Systems (IAS); Bill Tomasi and Graham Newland, International Business Systems (IBS); Anthony (Tony) D'Angelo, InterTrade Systems; Kanth Krishnan and Santhosh Kumar, Intrigo Systems; Jay Moris, Invata Intralogistics; Scott Lewin, Invoiceware International; Puneet Saxena, Salim Shaikh and Suresh Acharya, JDA Software; Peter Leith, JustEnough Software; James Kelly, JVKellyGroup; Celeste Catano, Kewill; Dominic Thomas, Kinaxis; Douglas Markle and Tom Flynn, Lavante, Inc.; Bill Madden, LeanLogistics; Mark Davis, LexisNexis; Bob McFarland, Ginger Stegmier and TC Baker, LLamasoft; Diego Pantoja-Navajas, LogFire; Allan Dow, Logility; John Motley, Log-Net; Mark Millar, M Power Associates; Bob Patel, MEBC; John Boucher, ModusLink; and Leonardo Felipe de Araujo and Natasha J. Gambrell, NeoGrid.
Sid Geddam, NetSuite; Charles Dominick, Next Level Purchasing Association; Mark Burstein, NGC Software; Jon Winsett, NPI; Richard D. Stack, Oildex; Rick Turek, Omnitracs; Linda Palanza, OneView Commerce; Pedro Cueva, OnProcess Technology; Radu Pavel, Optis; Charles Grissom, Optricity; Barbara M. Ardell, Paladin Associates; Marc Braun, PCData, Inc.; Ian B. Silver, Periscope Holdings; Michael Sosnowik, Pharmsaver; Matt Yearling, PINC Solutions; Dan Grant, Mike McDonald and Sheila O'Sullivan, Prime Advantage; David Quillian, PrimeRevenue; Gabriel Gabaldon, PROACTIS Group; Bernie Donachie, Protiviti; Albert B. Jacobs, Puridiom; John Costanzo, Purolator International; Wayne Slossberg, QuestaWeb; Lisa Aleman, Radisys; Jim Lawton, Rethink Robotics; Sean Elliffe, Reveal; Rolf Zimmer, riskmethods; Darcee Scavone, Ryder System Inc.; Scott Moorad, Satellite Logistics Group; Samarth Sarthi, SCA Technologies; Evan McCaig and John Sidell, SCAPath; Beth Hendriks and Karen Sage, SciQuest; Matthew Campbell, SCMO2; Jeff Christensen, Seegrid; Seth Crespin, ShipXpress; Gregory Hartunian, Smart Software; Sean Riley, Software AG; Omer Bakkalbasi, Solvoyo; Jamie Burkart, Lindsey Fandozzi and William Dorn, Source One Management Services; Brandon Henning, Sparta Systems; Brian Broadhurst, John Haber and Paul Steiner, Spend Management Experts; John La Bouff and Kenneth Poore, Spinnaker; Robert F. Byrne, Terra Technology; Anne M. Kohler, The Mpower Group; Jim Kandilas, The Shelby Group; Ed Brown, Topper Industrial; Jerome Malavoy, Trace One; Tom Mann, TrakLok International; John Kelly, Transplace; John Richardson and Todd Benge, Transportation Insight; Dave Hockersmith, Trans-Soft; Scott Nelson, Trax Technologies; Shannon Potter, UltraShipTMS; Brian Neuwirth, UNEX Manufacturing; Deryk Powell, Velociti; Dave Williams, Westfalia Technologies; Ellen Voie, Women in Trucking Association; and Mick McCormick, Yale Material Handling Corp.
Practitioner Pros to Know
Orhan Daglioglugil, A101; Sean Smith, Agropur; John Moreland, Avetta, formerly PICS Auditing; Maike Sievers, BLG Logistics; Dan Gerard, Bon-Ton Stores; Renaud Perray, Cardone Industries; Jacqueline Bailey, Cargill; Tom Bertolino, Cass Information Systems; Michael Hung, CBX Software; Steve Schuman, dg3; Heidi Landry, Dow Corning; Rob Brimm, Fieldglass; Philip Poston and Tony Sartin, Hytrol Conveyor; Dominic Telaro, I.B.I.S. Inc.; Shelley Kiley, Moen; Paul Welna, Murphy Warehouse Company; Kunal Thakkar, Newegg; Kevin E. McCurdy, Orchestro, Inc.; Ron Atapattu and Shani Atapattu, Overseas Cargo, Inc.; Gordon Wong, John Eagleson and Paul Singer, Pace Harmon; Kevin Lawler, Pelican BioThermal; Wolfgang Winstel, POOL4TOOL America; Heather A. Powell and Ronald D. Southard, SafeSourcing; Gene Obrock, ShurTech Brands; Pervinder Johar, Steelwedge; Bryce Treese, Sunsweet Growers; Joey Benadretti, SYSPRO USA; and Ajay Ray, ToolsGroup.
Team Pros to Know
C3 Solutions, Cargo Chief, Celestica, ExtenData, ON Semiconductor, Spinnaker and Virtual Logistics Inc.
Companies in this article