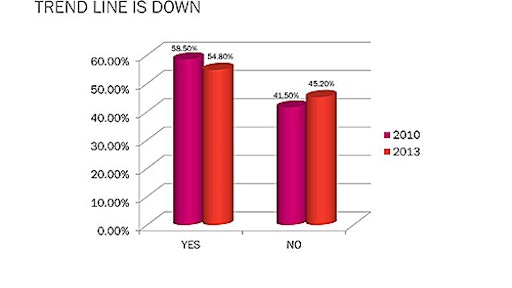 Itasca, Ill.—Nov. 27, 2013—IFS, a global enterprise applications company, released a primary research study suggesting that interest in enterprise resource planning (ERP) integration with social media sites may be leveling off.
In the study, 54.8 percent of respondents said they thought integration with social media would be an important factor in ERP software selection in the future, whereas 58 percent expressed that sentiment in 2010.
According to an IFS Labs expert in enterprise 2.0, this view is consistent with IFS's approach to social media in an ERP application. "We are seeing less interest in integrating social media to ERP, and more interest in applying some of the usability and communication methods people find so compelling in social media, and replicating them directly in the software," IFS Labs Director David Anderson said.
The study is based on an August 2013 survey of more than 200 executives at mid-size to large industrial companies. IFS conducted a similar study in 2010, and the trend line between the two studies indicates that, while there is still interest in integrating ERP with social media, that interest diminished somewhat over the last three years. There is, across multiple industries, a trend toward what is referred to as enterprise 2.0, or the use of social media technologies in business settings.
"IFS is committed to the enterprise 2.0 trend in large part because tools like social media, wikis, and blogs are intuitive and simple to use," Anderson said. IFS Labs, part of IFS Research & Development, combines consumer technology with business applications to create user-friendly enterprise tools.
"At IFS Labs, we already launched these enterprise 2.0 features into our ERP suite, IFS Applications, with a feature called IFS Talk. This does not involve integration with public social media sites. Rather, it is designed to leverage the type of functionality people have become familiar with, and find so compelling, in sites like Facebook or Yammer. This allows users to communicate effectively and intuitively in a secure environment. It also increases engagement and usage of the system and, because it is contained directly in the enterprise system of record, it becomes part of the organization's knowledge base."
Companies in this article