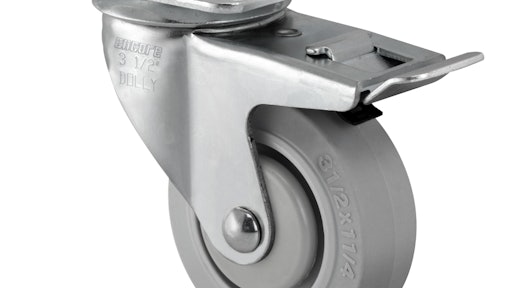 Jonesboro, Ark.—April 25, 2012—Caster and wheel products manufacturer Colson Caster Corp. added a new brake option to its Encore' Dolly Caster line. The Total Lock Brake is now available on all of Colson's Encore Dolly line swivel casters.
"The requests to expand our Encore Dolly line started almost as soon as we introduced the line's swivel caster last year," said Brian Crain, Product Manager for Colson. "The products are the best-for-the-price when quality, durability and performance still matter."
Crafted to move dollies, food service carts and stock carts easily and silently, the Total Lock
Brake is formed with a durable zinc-plated finish; and locks both the wheel and swivel simultaneously when easily engaged by foot action. The series' easy-rolling and non-marking grey TPR wheel is fitted with a unique plastic thread guard that also serves as an integrated spanner bushing. All models have a one one-quarter tread width and are available in three-, three and one-half-, four- and 5-inch wheel diameters with load capacities tested from 180 to 260 pounds.
All of the new line additions are available now for immediate shipment.