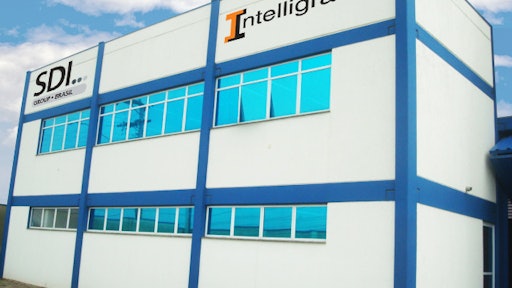 Atlanta—Feb. 07, 2012—Automated material handling solutions provider Intelligrated Inc., Cincinnati, and SDI Group USA, a global manufacturer of integrated materials handling solutions, launched their jointly-owned and managed operation in Sao Paulo, Brazil. The two companies are combining their sales, engineering, project management, customer service and spare parts support capabilities to provide in-country material handling system solutions.

Intelligrated identifies entering the South American material handling and supply chain markets as a strategic growth initiative that caters to increased demand for handling automation in the manufacturing and retail sectors in the region.
"Intelligrated is pleased to join forces with SDI Group to bring our material handling services and solutions to Brazilian customers," said Stephen Ackerman, Executive Vice President, Intelligrated. "We see a void in the local marketplace for companies providing advanced sortation and palletizing systems and we aim to fill that void. SDI Group's team has a great understanding of local practices and the market landscape. Our combined expertise will maximize impact for our customers who are based in Brazil or do business there."
The joint SDI Group and Intelligrated operation benefits both Latin American and global customers with the best of both worlds as their market expands access to globally recognized leaders in the material handling industry who can also navigate and respond to unique local demands.
"SDI Group has been operating in Brazil for over five years and partnering with a supplier like Intelligrated adds strength to our regional offering," said Krish Nathan, President, SDI Group USA, Pacoima, Calif. "The rapid growth of the market is placing stress on many of the existing distribution methodologies and techniques. We invest in local people who understand the distribution business and how it applies to local operations. Together, we can take our experience gained in the U.S. and translate that into techniques that are appropriate for the local market place."
The new facility is located in Jundiai in Sao Paulo—between Campinas and Sao Paulo—to serve local demand from both manufacturing and distribution markets and support activities in the region. SDI Group Brazil's Marcelo Bueno will manage the facility. He brings over 15 years of technology implementation experience and a solid understanding of material handling and global business development. Bueno will be responsible for the success of the overall operations in Brazil.
Companies in this article