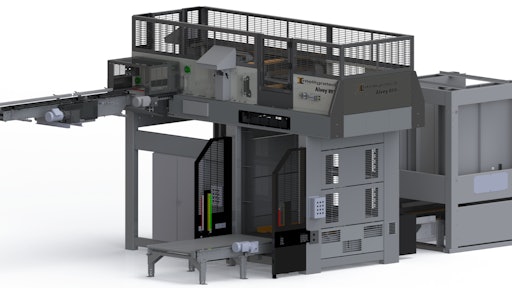 Las Vegas—Oct. 1, 2015—Intelligrated®, a North American-based automated material handling solutions provider, announced the launch of two enhanced palletizer models, the Alvey® 890i and 891i. The upgrades include technological advancements that make the machines easier to operate and maintain, improve safety and offer options to increase capacity.

The new models provide exceptional flexibility and versatility in a smaller footprint with the ability to handle a wider array of package types and intricate stacking patterns. Operators can create new load configurations through a 10-inch color touch-screen interface while capitalizing on standard features like automatic layer-centering compression dams, and package stops that can be relocated or installed in minutes.

The primary difference between the 890i and 891i models is palletizing capacity. The 891i features a level, non-pitched layer accumulation table as a buffering mechanism to enable a throughput rate in excess of 60 cases per minute, while the 890i achieves a nominal rate of up to 45 cases per minute. Servo technology is available to further increase capacity or facilitate automatic changeover.

Maintenance-focused enhancements to the Alvey 890 Series include semitransparent covers for visibility during operation. Covers and guards are easy to handle and remove for quick access to components that may require adjustment or replacement through the system lifecycle. The updated design also prioritizes safety with an automatic air dump to avoid trapped energy, standard high-voltage arc flash protection, remote power disconnect, interlocked access gates, taller safety fences and a muted light curtain system for pallet discharge.

"The Alvey 890 Series family of palletizers offer updated designs and premium components that combine to provide a level of palletizing refinement never before seen in our industry," said Frank Pellegrino, vice president of machine products, Intelligrated. "We listened to our customers to develop enhancements that address their needs as we continue our commitment to provide the most reliable palletizers on the market."

Intelligrated Lifecycle Support Services backs each system with a variety of proactive services designed to maximize asset performance throughout its useful life, including modifications and upgrades, training and maintenance programs, and 24/7 technical support.
Companies in this article
Request More Information
Fill out the form below to request more information about
Intelligrated Introduces Enhanced Alvey 890 Series Palletizers