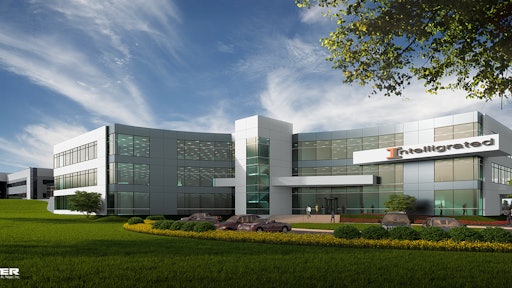 Mason, Ohio—Jan. 30, 2012—Intelligrated Inc., an automated material handling solutions provider, revealed their headquarter office expansion today in a special ceremony attended by Mason Mayor David Nichols and Dave Neyer, Chairman of Cincinnati-based Al. Neyer Inc., who was awarded the construction project.
"We are thrilled to celebrate Intelligrated's success as they break ground on their state-of-the-art facility here in Mason," said Nichols. "Congratulations to Intelligrated. You have set the tone for new investment and new jobs in 2012."
Intelligrated will relocate administrative personnel into the new building to accommodate a planned expansion in engineering, customer service and R&D staffing and testing facilities. The project will accommodate 450 associates and is scheduled for completion in October 2012.
The expansion is made possible by an incentive package from the state of Ohio and the city of Mason to support local job growth. Valued at approximately $15 million, the package includes a combination of Intelligrated's existing Job Creation Tax Credit, state and local government loans, property tax abatement and a state of Ohio grant.
"Today's groundbreaking is a milestone in Intelligrated's ongoing growth as one of the most technologically advanced players in the material handling industry," said Chief Executive Officer Chris Cole, Intelligrated Inc. "The new building will help us continue to expand our footprint, grow our technical staff and create advanced productivity solutions. We appreciate the incentives from the state of Ohio and the city of Mason which help support our expansion."
For more information, visit www.intelligrated.com.