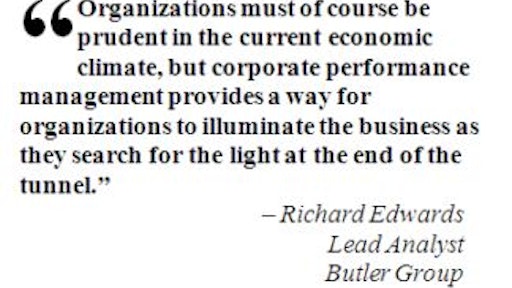 London — March 5, 2009 — The acquisition of Business Objects by SAP and Cognos by IBM has caused a great deal of turbulence in the Business Intelligence (BI) world, and this in turn is having an effect on the BI applications market. However, there is also another reason for the slowdown in this particular market: abstinence.

In a move to differentiate its wares and to extend the reach and range of its BI platforms, vendors in this space have spawned an adjacent market comprised of applications designed to help organizations run their businesses better. One of these application areas — "performance management" — has gained significant momentum over the last four years, with BI (and non-BI) vendors investing heavily in order to secure their share of the market.

Performance management solutions are presented in many different guises: Enterprise Performance Management, Business Performance Management and Business Performance Software, with Corporate Performance Management (CPM) being Butler Group's preferred term.

In the current climate, one would have thought that the market for CPM solutions would be booming, as business leaders seek to control their companies and institutions better. But my impression at the moment is that organizations are being ultra-cautious in all areas of IT spending, even though CPM should be viewed as a mission-critical business investment project.

Holding off CPM projects for another year is not really an option in my opinion, as although many factors influence the performance of an organization, none is more critical than the decisions business users make every day. CPM solutions help individuals make these decisions and enable organizations to answer three key business questions: "How are we doing?" "Why are we doing this?" And, "What should we be doing next?" In terms of CPM offerings, this equates to: score-carding, dashboards and financial consolidation; reporting and analysis; and planning, budgeting and forecasting.

Most organizations do, of course, have systems in place to measure and monitor aspects of business performance, but all too often these systems stop at the finance department. CPM extends this practice to other areas of the business and provides operational managers and employees with actionable BI, that is, information that is both relevant and timely.

The current trend towards IT abstinence — the conserving of expenditure relating to IT projects in order to build up capital or savings — may be damaging to an organization's prospects when the global economic slow-down reverses. Cancelling or postponing BI projects in particular can only weaken an organization's position with respect to the competition. Organizations must of course be prudent in the current economic climate, but CPM provides a way for organizations to illuminate the business as they search for the light at the end of the tunnel.

About the Author: Richard Edwards is lead analyst of Butler Group's Information Worker Communications and Collaboration practice. He has contributed to a number of in-depth reports covering business intelligence; workgroup and enterprise collaboration; corporate performance management; and managing costs in IT. Prior to joining Butler Group, Edwards was a technology management consultant with one of the world's largest IT services companies.


Companies in this article