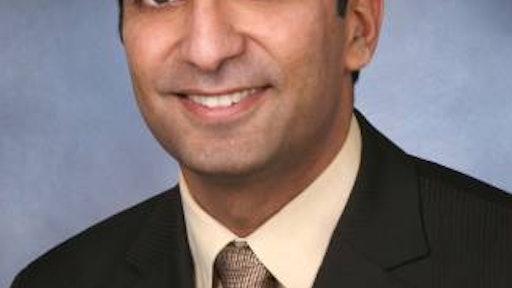 Washington, DC — April 28, 2009 — A new organization has launched to promote reform in the federal acquisition system, aimed at bringing ongoing procurement reform to the way the federal government conducts its buying.
The
Federal Acquisition Innovation and Reform Institute
, or FAIR, is being set up to be a nonpartisan, nonprofit organization led by Raj Sharma, president and CEO of
Censeo Consulting Group
, who will act as president and co-chair of the board for the organization. Allan V. Burman, president of
Jefferson Solutions
and former administrator of the
Office of Federal Procurement Policy
, will be co-chair of the board.
Additional board members include David Nelson, former senior executive in procurement with
Honda of America
and chair emeritus of the Institute of Supply Management, David Litman former senior procurement executive for the
U.S. Department of Transportation
, and Joseph Sandor, Hoagland-Metzler professor of supply chain management at
Michigan State University
, one of the leading supply chain programs in the world.
"Through FAIR, we will work with key constituencies to promote a federal acquisition system that continually innovates to meet government policy objectives, exceeds world-class standards of performance and ensures the prudent use of taxpayer dollars," said Sharma.
Sharma added that the goal of the new organization is to bring innovative solutions based on commercial and federal best practices that are practical for the complex federal environment. "We will stress the need for acquisition reform to be as comprehensive as possible, elevating the current discussion from tactics, such as types of contracts, to a more strategic one that focuses on the outcomes and capabilities required of a world-class acquisition system," he said.
FAIR believes the work it will be doing is unique because it will bring together leading ideas and thinking not only from government acquisition experts but also from leading commercial practitioners, academics and industries. "With a singular focus on the acquisition system, FAIR will provide an important link between policy and execution," the organization said in announcing its launch.
"Right now the federal acquisition system is facing a unique challenge," said Burman. "It is being charged with spending billions of dollars in stimulus funds with an emphasis on speed and transparency."
Burman said that much of the attention has been on planning for audits and investigating how the money was spent. "In addition to those necessary steps, we think the reform and innovations should start at the very beginning of the process so the money is spent wisely to begin with," he said. "We believe that through planning, collaboration and reforms at all levels of the acquisition process, this can be a watershed time of change not only for the country but for the acquisition community. We should, as President Obama says, turn challenges into opportunities."
The Institute's initial priorities will be providing input and recommendations to decision makers within OMB, Congress and federal agencies on acquisition and workforce reform, as well as implementation of the stimulus funding. A white paper with recommendations was recently released by Raj Sharma making recommendations for collaborations among agencies. A copy of that paper can be found at the institute's Web site.
FAIR plans to continue publishing research, bring together policy makers through conferences and events, and act as resources for Congressional leaders as they address the issue of acquisition reform. The initial funding for FAIR is being provided by Censeo Consulting Group.
The institute's board will be comprised of five initial members, including:
Raj Sharma, Co-chair of the Board — Sharma is founder, president and CEO of Censeo Consulting Group, a provider of strategic supply chain management, operations and procurement capabilities to Fortune 500 companies and federal government agencies. Sharma brings over 16 years of procurement and supply chain consulting experience, working with C-level executives and their teams to implement supply management solutions. He has been instrumental in helping guide the federal government in establishing a framework for strategic sourcing, now being applied across many federal organizations, including the U.S. Department of Defense. Prior to founding Censeo in 2003, Sharma held several sourcing and supply chain management positions at Booz Allen Hamilton and FreeMarkets (now part of Ariba).
Allan V. Burman, Co-chair of the Board — Burman is president of Jefferson Solutions, the government division of the Jefferson Consulting Group. He is a former administrator for federal procurement policy in the White House's Office of Management and Budget, serving in that position under presidents Reagan, Bush and Clinton. Burman is a fellow of the National Academy of Public Administration, a director of the Procurement Round Table, member of the Executive Advisory Council of the National Contract Management Association, and an honorary member of the National Defense Industrial Association. He is also an adjunct professor at George Mason University.
David Nelson, Board member — Nelson, a sourcing and supply management visionary, is chief supply chain/strategy officer for HTC Global Services. Prior to that, he served as vice president, global supply management at tier-one automaker Delphi Corporation, where he was also a member of the Delphi Strategy Board, the firm's top policymaking group. He previously led purchasing and supply management operations at Honda of America Manufacturing and Deere & Company.
Joe Sandor, Board member — Sandor, former president and CEO of Creative Procurement Strategies, was appointed the Hoagland-Metzler endowed professor of practice in supply management at Michigan State University's Eli Broad Graduate School of Management in 2006. Prior to forming Creative Procurement Strategies, where he advised clients such as Harley-Davidson, Rolls-Royce, Whirlpool, Hewlett-Packard, IBM, Motorola and ConAgra, Sandor was chief procurement officer and director of corporate purchasing and logistics for the Sara Lee Corporation for 15 years.
David Litman, Board member — Litman was senior procurement executive for the Department of Transportation from October 1995 to February 2008. His responsibilities included overseeing DOT's $6 billion annual acquisition program, providing leadership and policy guidance to the DOT acquisition work force, overseeing grants management and policy, and guiding the competitive sourcing program. Litman also served as chair of the Federal Acquisition Institute board of directors and was chair of the Chief Acquisition Officers' Council Human Capital Working Group. Previously, he spent more than 10 years as a contract specialist, contracting officer, deputy branch head and branch head in the contracting division of the Joint Cruise Missiles Project, Department of the Navy, acquiring the TOMAHAWK Cruise Missile and its components.