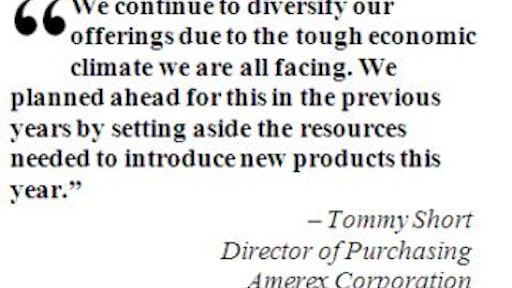 Chicago — April 20, 2009 — Industrial manufacturers are prepared for another tough year in 2009, and they are counting on the conservative measures taken over the past couple years to help carry them through to better times by year end, according to the results of a new survey from
Prime Advantage
.
The third Group Outlook Survey from Prime Advantage, a buying consortium for midsize industrial manufacturers, revealed the top economic concerns of midsize industrial manufacturers, as well as an opportunistic outlook for 2009 and beyond.
Among the highlights of the survey findings, 87 percent expect to introduce new products in 2009, even as 62 percent of respondents are also expecting some level of revenue decline in 2009. And even as most raw material costs continue to drop, managing these costs continues to be a top priority for manufacturers that are coping with varying degrees of revenue shortfalls.
Survey data were collected in late February from 103 representatives of industrial manufacturing companies, including business owners, vice presidents of procurement and purchasing professionals.
"This is our third Group Outlook Survey, and it offers unique insight into the concerns of midsize industrial manufacturers," said Louise O'Sullivan, president and founder of Prime Advantage. "This survey also serves as a strong reminder of the many economic benefits that can be achieved, both immediate and long-term, from strategic sourcing."
Economic Outlook
Twenty-eight percent of respondents expect revenue this year to stay the same as 2008, while 6 percent expect revenue to increase up to 10 percent, and only 3 percent expect an increase of more than 10 percent. Among the 62 percent that anticipate revenue declines, 37 percent of these reported that they expect revenues in 2009 to decrease up to 10 percent in comparison to 2008, while another 25 percent expect revenues to decrease more than 10 percent.
This is in agreement with other business indexes, such as Institute for Supply Management (ISM) data that show the Purchasing Managers Index (PMI) stuck in the mid-30s for the past three months, and with U.S. Department of Commerce trade data that show the export of U.S. manufactured goods fell 20 percent in January 2009 as compared to one year earlier.
Sixty-six percent of respondents in the Group Outlook Survey said capital spending for U.S. locations, including significant capital improvements or new purchases of property or equipment, is expected to decrease from 2008 levels. This is nearly identical to the responses garnered from Prime Advantage's Group CFO Survey that was conducted in January, when 69 percent of manufacturing CFOs said they expected cutbacks in capital improvements this year.
Thirty-four percent in the Group Outlook Survey expect capital spending to be equal to or more than 2008 spending amounts.
The top external concern facing manufacturing is customer demand at 83 percent. "Credit markets and interest rates" was the next greatest concern, at 44 percent, and volatility of the dollar came in as the third most frequently listed concern at 37 percent. Again, the top external concerns mirrored the results of Prime Advantage's Group CFO Survey, where the inability to measure customer demand ranked as the top external concern at 76 percent, while credit markets and interest rates came in second (38 percent) and volatility of the dollar came in third (34 percent).
Top Expected Cost Pressures for 2009
For the third Group Outlook Survey in a row, raw material costs (such as metals and plastics) are the top cost pressure concern, cited by 67 percent of survey respondents. This has come down from the last survey, when 93 percent mentioned it as the top cost pressure concern in July 2008.
Overhead costs ranked as the second greatest cost pressure at 50 percent (up 39 percentage points from the July 2008 Group Outlook Survey, when it was cited by just 11 percent of respondents). Logistics/supply chain costs continue to rank among the top three concerns, with 49 percent in agreement.
Other cost pressure concerns in 2009 include healthcare (43 percent), energy (27 percent), foreign competition (27 percent), inflation (25 percent) and labor (23 percent).
While there is great concern about the costs of raw materials, 93 percent of the respondents still expect raw material prices to continue falling over the next six months. A majority expects similar results for the price of components (72 percent) and supplies (56 percent).
Purchasing and Sourcing Priorities
The Prime Advantage Group Outlook Survey also revealed top sourcing concerns for 2009. Forty-five percent said the costs and sources of raw materials are their top concern, while 64 percent agreed that a focus on consolidating vendors was the lowest concern for 2009.
Outside of competitive pricing, 91 percent of manufacturers will be asking vendors to provide vendor-managed inventory or consignment agreements in order to boost cost savings in 2009. In addition, 41 percent would like their vendors to assume more research and development responsibility and costs, while 38 percent want to see business process cost reduction steps implemented (including electronic transactions, print-on-demand and outsourcing administrative functions).
Planning for the Future (and Upturn)
In spite of the tough economic conditions, optimism remains for the future, as a majority of Prime Advantage members plan on introducing new products to market this year. In total, 87 percent of respondents will be introducing new products in 2009, while 70 percent so far have plans to introduce new products in 2010.
This echoes findings from Prime Advantage's Group CFO Survey published in February, as 31 percent of CFO respondents reported an increase of new product development budgets from 2008 levels, with 17 percent of respondents predicting development of new products or services to meet new customer needs.
"The development of new products is a strategic growth direction for our business and helps demonstrate to our customers that we continue to change to meet their specific needs," said Tommy Short, director of purchasing with
Amerex Corporation
, a manufacturer of hand portable and wheeled extinguishers for commercial and industrial applications. "We continue to diversify our offerings due to the tough economic climate we are all facing. We planned ahead for this in the previous years by setting aside the resources needed to introduce new products this year." Amerex Corporation is based in Trussville, Ala., and is a member of Prime Advantage.
For the survey, in February Prime Advantage surveyed executives and purchasing professionals that represent durable goods manufacturing firms, with annual revenues ranging between $10 million and $10 billion, of which the majority ranges between $20 million and $500 million. The survey received a 29 percent response rate from 358 executives representing U.S.-based manufacturers in more than 25 different industries, including commercial foodservice, packaging, truck and trailer, material handling, food processing and construction.
Founded in 1997, Prime Advantage is a buying consortium for industrial manufacturers with more than 550 members and more than 110 "endorsed suppliers." Since its inception, Prime Advantage said it has returned more than $75 million in rebates and discounts to its members.