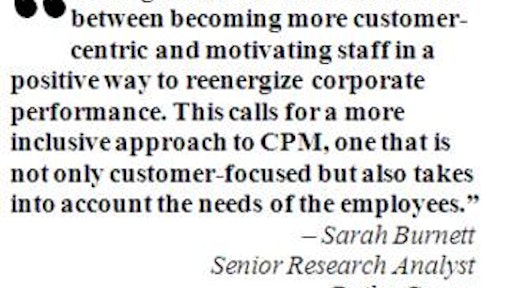 London — April 22, 2009 — Today organizations are being ultra cautious in all areas of IT expenditure, and many might question the value of investing in business intelligence (BI) technology solutions. But a new report by European IT research and advisory organization
Butler Group
questions exactly how any enterprise intends to survive without BI.
The report, entitled "Business Intelligence — Corporate Performance Management," points to the important role that BI and corporate performance management (CPM) software play in illuminating and informing the business.
Holding off investment in BI and CPM for another year is not really an option, says Butler Group, especially when the drivers are diverse, ranging from strategic to operational to legal — as is the case with compliance. In many markets and vertical sectors, the requirements for some kind of BI and CPM capability are very real and pressing, the analysts report.
Three Questions to Answer
Born out of the need to proactively manage performance for business optimization, CPM can play an important role in controlling costs, optimizing resources and ensuring that business units are adding value. BI has a crucial part to play in performance management, presenting information in a timely and easily consumed fashion, and in providing the ability to reason and understand the meaning behind performance information through discovery, analysis and ad hoc querying.
"Good decision making and performance management are key to business value generation but neither is easy in today's complex world," said Sarah Burnett, senior research analyst at Butler Group and lead author of the report. "The corporate focus on IT costs is often driven by the enterprise-wide mandate to 'do more with less' and growing demands for compliance and governance-led transparency. BI and CPM solutions help firms answer three key business questions: 'How are we doing?', 'Why are we doing this?' and 'What should we be doing next?'"
Burnett added that economic pressures dictate that organizations manage corporate performance better to adapt to the different world that has emerged from the ashes of the credit crunch. "The old adage 'customer is king' has never been more relevant to business than it is today," Burnett explained. "I believe that managers have to strike a balance between becoming more customer-centric and motivating staff in a positive way to reenergize corporate performance. This calls for a more inclusive approach to CPM, one that is not only customer-focused but also takes into account the needs of the employees."
Demoralizing Effect of Uncertainty
Burnett pointed out that the drop in demand in sectors such as the car industry already has resulted in dire consequences, including the closure of factories, shorter working weeks and layoffs. "Even the public sector is not immune to the downturn, with less money becoming available for public services. This type of uncertainty can have a demoralizing effect on the workforce and lead to stress-related sick leave and poor motivation," the analyst said.
CPM refers to the use of proactive management interventions to optimize overall corporate performance, based on the ability to track key performance indicators (KPIs) over time and productively model the impact of significant business events and alternative courses of action. BI-based solutions enable organizations to learn more about their customers, and, through analytics, they can link customer behavior to sales of products and services to understand the whys and wherefores of success or failure of products and sales campaigns.
In recent years BI technology has become closely linked to CPM software. It joins the discipline of BI with enterprise budgeting and planning to give the organization a window into performance: the ability to compare expectations with reality — what was predicted or planned to actual performance.
Achieving a Balanced View
At the highest level CPM delivers a series of metrics that allows the organization to achieve an accurate and balanced view of performance. It recognizes that the various elements of the business will need subtly different interpretations of performance, based on their specific goals and targets, which will blend internal and external views, and financial and non-financial (operational) measures.
Butler Group's report "Business Intelligence — Corporate Performance Management" covers the role of CPM in controlling costs and optimizing the use of resources, how BI provides the foundation for CPM initiatives, and which scorecarding methodologies can be used to underpin CPM.
The report also address how collaborative BI is the key to achieving and sustaining competitive advantage, and why executive buy-in and end-user engagement are prerequisites for CPM initiatives.
In addition, the analysis discusses how the integration of enterprise search into BI platforms extends the reach of existing investments, why poor data quality and lack of integration are still major barriers to effective CPM, and how software-as-a-service (SaaS) will offer hesitant organizations a lower-risk path to performance management.