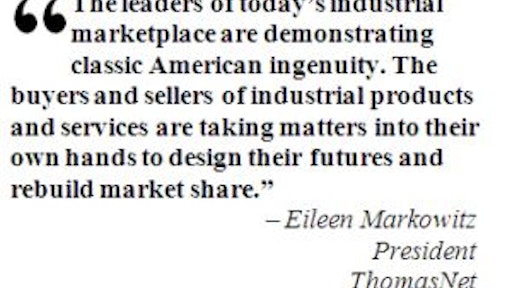 New York — October 14, 2009 — Despite challenges that are out of their control, from the global economic downturn to the fallout of customers closing doors, professionals from manufacturing and industrial companies are not only optimistic about their ability to ride through the recent economic slowdown, but even expect to grow in 2009 as the economy shows signs of a rebound, a new national survey from
ThomasNet
shows.
Among the 800 executives, managers and engineers from small, midsize and large companies responding to ThomasNet's Industry Market Barometer survey, 76 percent say they think the U.S. economy will improve by the second quarter of 2010 or sooner, and 35 percent expect their own businesses to grow by the end of this year.
To be sure, the recession has not left these businesses unscathed. More than half (54 percent) report a decline in their businesses during the first half of 2009, mostly fueled by customer losses. But these companies are combining ingenuity with decisive action to direct their own rebounds, rather than wait for the economy to pick up steam.
The majority (61 percent) don't see the federal stimulus package helping them, either — but no matter. As one respondent noted: "This is not our recession. We refuse to participate."
These business leaders report taking a variety of actions to control their destinies, although there was no single silver bullet for how they are going about it. Nearly three-quarters (70 percent) are instituting new sales tactics, including looking for business in new industries such as medical or aerospace, exploring new sales channels like distributors, and increasing their online marketing. In order to more than just survive but succeed, 38 percent are developing new and innovative products.
"The leaders of today's industrial marketplace are demonstrating classic American ingenuity," said Eileen Markowitz, president of ThomasNet. "The buyers and sellers of industrial products and services are taking matters into their own hands to design their futures and rebuild market share. They're also savvy enough not to go it alone, bringing in experts to help with online sales strategies, for instance, while they focus on their core strengths."
The survey respondents shared some of the lessons they have learned which form the foundation for their new strategies:
"You can't be diversified enough in a down market."
"Always energize around sales, innovation, marketing and cost control measures."
"Stay customer-focused. Be flexible to meet customer expectations. Be proactive in responding to customers and/or anticipating customer needs."
"The Internet is one of the best business tools available, period."
"Innovation must never end."
"The recession has reinforced that it's always important to be reaching into new markets while simultaneously nurturing current customers," said Markowitz. "The Internet is the most effective, broadest reaching and most cost efficient channel for doing so. Contrary to conventional wisdom, Web sites do more than promote businesses — they help close sales."
Respondents to the ThomasNet Industry Market Barometer included owners, general managers, executives, engineers, procurement professionals and others at industrial companies across sectors.