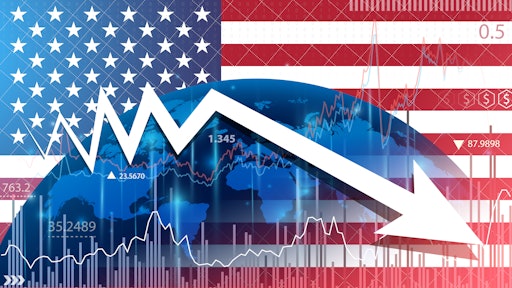 leestat AdobeStock_503946321
Transaction volumes across U.S. supply chains grew at their fastest pace in more than two years as domestic trade activity showed renewed signs of resilience following a recent slump, according to new Tradeshift data.
"We saw order volumes starting to tick up in the US last quarter as supply chains worked their way out of a bullwhip cycle," says Christian Lanng, CEO and co-founder at Tradeshift. "Conditions are still challenging, but the combination of a strong domestic market and high consumer confidence could well give US supply chains enough fuel to ride out the current storm."
From Tradeshift:
Data shows that the volume of new orders and invoices exchanged between U.S. buyers and their suppliers grew at 3 points above its expected range in Q2, recovering from a level 6 points below the baseline in the previous two quarters.
Emerging signs of stability in the United States contrast with a more uneven global picture. Total transaction volumes across the

Tradeshift

platform grew at 4 points below the expected range, a modest improvement on the 5-point deficit in Q1, but nonetheless evidence of a trading environment that remains sluggish.
The Eurozone and the UK followed the global trend, with trade activity in the Eurozone 3 points below expectations in Q2 compared to a score of -8 in the previous quarter. In the UK, transaction volumes grew at 5 points below the baseline in Q2 compared to -7 points in Q1.
The decline in global demand has impacted the pace of China's recovery following its lifting of COVID-19 restrictions at the beginning of the year. Transaction volumes between Chinese buyers and suppliers rose at 1 point above the expected range, indicating progress that is more steady than spectacular.
Globally, order volumes stayed flat at 2 points below the expected range in Q2 and appear to be settling at that level. Key sectors, including transport, logistics and manufacturing also appear to be settling into a lower rhythm after consecutive quarters of steeply declining activity. Invoice volumes fell more sharply in Q2, suggesting that supply chains are having to adjust to the prolonged drop in orders.
"For suppliers, a slowdown in orders is manageable so long as it's predictable," says Lanng. "The restriction in access to financing that often accompanies economic uncertainty is far more damaging. Helping small businesses unlock trapped liquidity is among our topmost priorities."