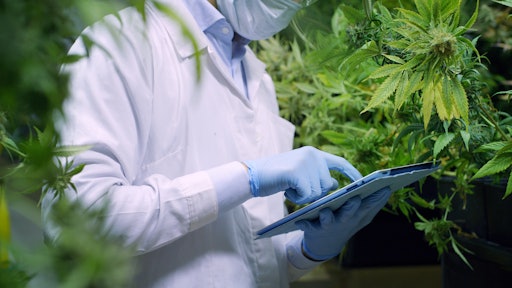 kitreel/stock.adobe.com
The global cannabis industry is growing, and as it does, so do novel applications of cannabinoids and other cannabis-derived products. Medical-grade cannabinoids, in particular, are becoming more prevalent and creating a promising industry. When entering a novel industry such as medical cannabinoids, awareness of the unique considerations for obtaining these types of products is essential.
How do EU Pharmaceutical Manufacturers Procure Cannabinoid Ingredients?
When manufacturing active pharmaceutical ingredients (APIs) from natural materials, working with reliable high-quality suppliers and maintaining flexibility in every stage of the procurement process is essential.
Generally speaking, working directly with certified suppliers that we ourselves audit and regularly visit ensures that quality product is always available from our trusted partners. Emphasizing traceability and transparency, as well, can help companies to ensure they are sourcing only the best possible raw materials. Traceability and transparency also inspire consumer and client trust, further legitimizing the cannabinoid API industry as a whole.
Companies that use raw materials subject to extensive regulation must strongly emphasize legal compliance and must have proper certifications, such as GACP certification, to ensure the trustworthiness of a company and the quality of its products.
Finally, the cannabinoid ingredient procurement process must remain flexible. Changing laws and regulations concerning import and export of cannabinoids can disrupt or delay supply chains, creating logistical challenges for manufacturers who use these materials. Agricultural challenges can also happen unexpectedly due to the environment and nature. However, companies can overcome these challenges by having a reliable direct network of cultivators they work with regularly that can scale up when needed.
Unique Considerations for Cannabinoid API Procurement
The considerations for sourcing cannabinoid APIs are remarkably similar to those for sourcing any other type of pharmaceutical-grade ingredient or product, with some added complexity due to regulations, the need for narcotics licenses when dealing with high THC. The same level of care needs to be applied when procuring cannabinoid ingredients as procuring any other pharmaceutical ingredient.
To avoid potential supply chain problems, medical cannabinoid companies must emphasize multi-sourcing practices and proper certification. Medical cannabinoid manufacturers must never sacrifice quality.
1. Multi-Sourcing Ensures Stability for Cannabinoid Producers
By procuring raw materials from multiple trustworthy sources, medical cannabinoid producers can avoid derailment due to legislative changes or agricultural issues. Ensuring access to various sources of the same raw materials allows manufacturers to have continuous supplies of the high-quality ingredients they need to formulate their products.
2. Compliance Certification Ensures Efficient Market Participation
Certification and compliance do more than ensure the quality of pharmaceutical cannabinoid ingredients: they can help to mitigate the risks posed by unforeseen events in this relatively unpredictable industry. The use of EU-certified seeds for example, ensures consistent quality and strict adherence to European laws concerning cannabis and cannabinoids.
3. Supply Chain Implications for the European Cannabinoid Industry
The implications that manufacturers must consider for sourcing medical cannabinoid ingredients also apply more broadly to the European cannabis and cannabinoid industries. Chief among these considerations are the freight price, the length of lead times, the logistics of individual deliveries, issues at the border and with customs, and many logictics companies will not transport cannabinoid ingredients.
Freight has become increasingly expensive, impacting all industries reliant on transporting raw materials or finished products. Ensuring the efficiency of supply routes is more important than ever. A few ways to decrease fuel and transportation budgets and lower a company's carbon footprint include being mindful of where products ship to and from and working to ensure paths are as efficient as possible.
Lead times for all types of products are also lengthening, partly due to fuel prices. Delays in shipping can be disastrous for manufacturers, so working with reliable, trustworthy suppliers is imperative. Such suppliers will consistently ensure their products ship on time with responsible shipping companies that work to ensure on-time delivery.
Ensuring raw materials are delivered promptly, and the cost per delivery remains low, contributes substantially to the overall efficiency of an organization.
Creating an Effective Supply Chain for Pharmaceutical Cannabinoid Ingredients
Sourcing raw materials for manufacturing medical-grade cannabinoids is somewhat unique compared to procuring any other type of active pharmaceutical ingredient, with some special legislative, geopolitical and agricultural considerations. It is essential to consider these factors when creating a medical cannabinoid manufacturing supply chain. This exciting industry is poised for continued growth over the coming years, so with careful planning to ensure effective procurement, it will provide an incredible opportunity for new and existing businesses with well-crafted supply chains.