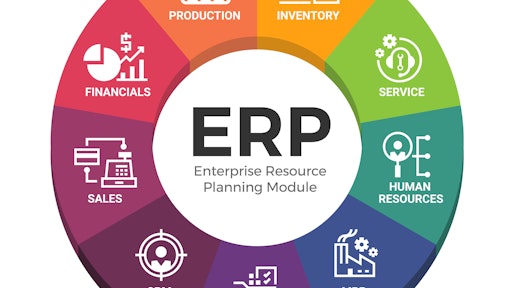 ananaline AdobeStock_276502511
As discussions of a recession continue to loom, private equity (PE) companies can play a key role in helping manufacturing firms weather the storm by enabling them to lower operating costs and promote growth. A crucial part of that effort involves improving business efficiencies within companies' enterprise resource planning (ERP) systems.
However, PE firms face a big challenge when acquiring multiple manufacturing companies: what should they do about disparate ERP systems?
Importance of ERPs for PE firms
ERP systems are the backbone of many manufacturing organizations and are used to handle accounting, project management, compliance and many other mission-critical processes. Many organizations also store financial data in their ERPs. As PE firms look to cut costs and optimize their investments, it is essential that they have easy access to this data to operate effectively.
When PE firms acquire multiple companies in the same sector, they may find that each company is running on a different ERP system. Or that some are running a combination of systems that may or may not be integrated. And some may be running without an ERP system at all.
For example, a major cereal manufacturer bought several companies over the course of a few years and realized it had 10 active ERP systems. The organization needed a way to bring that data together to accurately evaluate business operations. It is possible to run the 10 operational ERP systems and have one integrated ERP to provide an enterprise corporate view.
As seekers of profitability and growth, PE companies need visibility into every aspect of operations so that they can improve operational efficiencies. To accomplish this, PEs generally consolidate all companies in a specific sector onto one ERP system.
3 approaches to ERP management
PE firms dealing with several different ERPs across their portfolio have a few options.
1. Let it ride
The first option is just to let each organization keep the ERP they've been working with and not worry about consolidating the information. While this method is the easiest up front, it's a lot of work on the back end because the PE firm has to collect all of the data from each ERP, put all of the reports into the same format and then review the numbers to understand where each organization stands. Considering data entry has about a 1% error rate, PE firms can quickly run into a lot of issues.
The only time this method is truly viable is when a PE firm purchases an organization that they know they are going to shed from their portfolio in a short amount of time. It provides the greatest amount of flexibility to divest organizations.
2. Consolidation
Consolidation requires manufacturing organizations to implement a new ERP system so that all organizations in the PE firm's portfolio use the same system. This approach takes a lot of upfront work, especially considering the average ERP implementation lasts between one and two years. However, when the consolidated ERP is functional, PE firms have easy access to month-end data, which makes this an attractive option. The PE firm will need to be aware that there is a higher cost associated with consolidated ERP systems.
3. ERP of ERPs
As a middle ground between options one and two, some PE firms opt to use an ERP of ERPs, where they allow their manufacturing organizations to keep the ERPs they're currently using and integrate all data into an overarching ERP system. The setup can be difficult because firms will have to use APIs to connect all these ERPs. However, allowing manufacturers to continue to use their current system cuts down on the amount of change management necessary. This offers the advantage of divesting an organization more easily, while also providing a corporate enterprise view.
Determining the best approach for your PE firm
PE firms need to choose an approach that minimizes disruption to their business. Here are a few factors PE firms should take into consideration when figuring out the right optimization approach.
Software inventory. PE firms need to know what software their organizations use in order to determine what they can consolidate, what should stay and what should go. They'll need knowledge of all the features that each ERP system offers and what other software each integrates with. This audit helps the PE firm get a clearer picture of how changing the ERP landscape affects each of their organizations.
Visibility. PE firms need to have access to project plans, budgets, cost vs. actuals, labor information and other data. Plus, they'll need access to historical information to inform forecasts and business decisions. Visibility is a key part of determining financial success, and if an ERP system isn't providing the PE firm with full visibility into an organization's data, the firm will need to institute a change.
Cloud computing. Many manufacturers moved simple applications to the cloud but have not moved their ERPs because they have the highest risk set of data. PE firms may find some of their organizations operate their ERPs completely on-premises, while others partially host theirs in the cloud. If PE firms are already making a big change (e.g., consolidating ERP systems), they should consider moving everything to the cloud.
Scalability. PE firms need an ERP system that is scalable and can grow with their business so that when new manufacturing operations are added, they can jump onto the existing ERP system quickly. PE firms must choose a platform that allows them to integrate new streams of data easily and without much additional cost.
Seek help for complex ERP decisions
ERP management requires a deep expertise of all platforms' manufacturers in a PE firm's portfolio are currently using. One approach is to hire an in-house ERP specialist, but they are expensive, hard to come by and may not be needed for the long term. In fact, this also requires different skillsets that are normally required and hard to find. Instead, consider using a managed services provider (MSP) that specializes in ERP systems. MSPs can be retained on a monthly or contract basis, enabling PE firms to get expert insight into existing ERPs as well as help consolidating them or setting up an overarching ERP system.