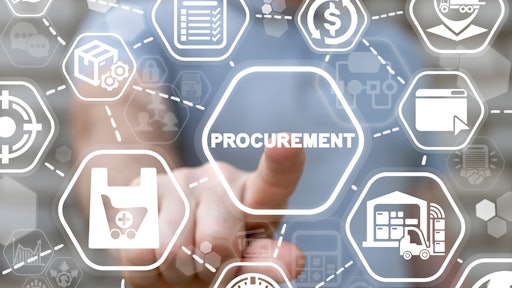 wladimir1804 AdobeStock_439356895
As we head into the new year, company leadership from the C-suite to the boardroom shares a pressing concern: optimizing costs and better managing expenditures to help fight the ongoing inflationary pressures all companies are facing. And they're looking to executive management across the organization to bring ideas to the table.
For procurement leaders, this presents an opportunity to examine where to refine and innovate procurement processes and partner with the CFO to assess how to create new efficiencies to better manage indirect costs. Here are four trends to help understand the changes afoot and address the urgent priorities of 2023.
1. Indirect spend will become the focus of C-suite efforts to improve the bottom line.
While companies were once able to squeeze margins from their supply chain, rising costs for products across the board are preventing them from tapping that go-to source. Instead, the C-suite will turn its attention to cost centers that have historically been, at best, lightly managed to preserve earnings, margins, and profitability. This includes optimizing indirect spend in areas such as technology, marketing and real estate.
A Kearney study explains that procurement must act now to modernize the way it manages indirect spend — 65% of most companies' overall spend and their biggest untapped opportunity to inject agility and resilience into the business while enjoying immediate margin improvements.
Even though indirect spend can account for 20-30% of revenues, it rarely catches the attention of executives beyond the CFO (unless budgets are being cut). That's changing this year. The broader C-suite and the board will now have indirect spend on their radar as one of the best opportunities to maintain shareholder value while counteracting inflation and recession. This will create a shift where organizations move from simply managing the budget to a more strategic focus.
2. CPOs will become critically important amid inflation and recession.
With indirect spend coming into the spotlight, CFOs will need to lean on chief procurement officers (CPOs) to figure out the best ways to transform how they source indirect services, increasing efficiencies and optimizing costs through the use of agile, intelligent, self-service technology and platforms.
CPOs will also be the hub of collaboration across the C-suite. As custodians of some of the most impactful data a company generates around spending patterns, speed to market, and supplier relationships, CPOs control an increasingly strategic lever that helps companies control costs. Executives will need visibility into this data to inform their efforts in defining the strategic vision and technology roadmap and determining capital expenditures and investments.
3. Automation will bring a more consumer-like, self-serve buying experience to the enterprise.
Automation is having a profound impact across entire organizations. By injecting automation into key enterprise functions including procurement, organizations will be able to bridge data silos and dramatically increase efficiencies across processes and departments.
To maximize the efficiency and effectiveness of automation, enterprises will increasingly look to procurement technology solutions that are more consumer-like and intuitive. If the RFP process is easy and a good experience, it will allow leaner teams to do more, while also encouraging business stakeholders across the organization, such as marketing, IT, and legal, to work hand in hand with procurement. This will give procurement leaders more control over and visibility into their company's indirect spend so they're better positioned to manage it.
Procurement leaders must also ensure there are mechanisms in place that prevent business stakeholders from making a sub-optimal selection of suppliers. It's crucial to guide them to make the best decisions, especially when it touches an entire global organization.
4. Within procurement teams, skill sets will shift from transactional abilities to relationship management and problem solving.
As data analytics and automation become more prevalent, companies will no longer need large procurement teams to focus on transactional work. Instead, CPOs will need employees who are adept in strategic problem solving and relationship management. This will enable procurement to add more business value across key corporate priorities such as the environmental, social, governance (ESG) agenda, while also helping to drive growth during the current economic uncertainty.
Since transactional tasks will be completed more efficiently through automation, organizations will also be looking to upskill people to leverage insights derived from technology and artificial intelligence. That will be a critical skill set defining effective procurement teams moving forward.
A shift that leads the way to innovation
Procurement is on the cusp of a major shift from a more transactional function to a significant business strategy. Skills, tools, and priorities are moving to align more closely with higher business goals, and this is all being enabled by technology.
Enterprise companies have a great opportunity to ensure that their balance sheets remain strong despite the global economic downturn by taking a closer look at how they manage their often-overlooked indirect spending. In the year ahead, as the C-suite looks for more levers to minimize expenditure, this is the chance for procurement to embrace modern, intelligent buying systems to optimize indirect spend, deliver new sources of value and improve spend efficiencies to meet and exceed business goals.