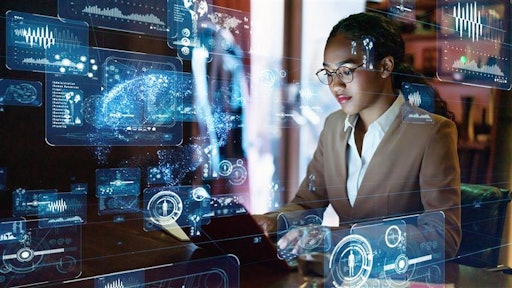 metamorworks
Companies across the globe are still grappling with economic uncertainty, continued supply chain disruptions, and in many cases, sharp top-line declines. In the face of this unprecedented change, organizations need a path back to efficiency and profitability, all while adopting a mindset of responsible buying to build supply chains that are more sustainable and inclusive.
A new report from Accenture sheds light on why organizations, particularly those that manage procurement, the "orchestrators of a company's third-party relationships," are in a unique position to help companies grow while improving resiliency and responsibility. Closed loop spend management (CLSM) is a proactive approach to managing third-party spend that can be key to unlocking new opportunities.
At its core, CLSM is designed to drive end-to-end transformation across indirect and direct cost categories to ultimately achieve and sustain breakthrough value in a responsible and resilient way. In essence, it allows companies to identify excess spend across the enterprise, remove it from the day to day workings of the business, and reinvest it in ways that can accelerate innovation and drive responsible growth. The ROI from this shift is worth the effort even in the short-term as companies who move to this model can generate value in just a few weeks.
Optimizing spend to help business and the planet
With CLSM, companies are better poised to examine their existing categories across sales, general and administrative (SG&A) expenses and costs of goods sold (COGS), while cutting costs that aren't driving value. The most pivotal step in this process is re-investing those savings into innovation, distinctive capabilities and specific activities that drive growth. These discoveries are driven by analytics and can create proprietary market intelligence and guidance so teams can identify and help execute quick wins.
This is especially important in today's volatile market, as companies must preserve cash liquidity and optimize spend, which is often needed to innovate for growth. In fact, according to IDC research, digital transformation spending was predicted to grow 10.4% in 2020 to $1.3 trillion. While this is slower than the 17.9% growth realized in 2019, this figure showcases the importance of improving spend management to ensure organizations can reinvest unrealized profits back into their companies to further innovate. In some cases, this innovation may appear in unexpected, but still highly valuable ways.
Contrary to popular belief, responsible business practices and profitability can go hand in hand. Using ethical sourcing analytics tools, a company can visualize its current sustainability performance against peers to illustrate how certain cost-savings initiatives also deliver on corporate sustainability goals.
These tools can also identify sustainability-specific interventions, such as required emissions reductions that help companies save. For example, one consumer goods company working with Accenture reduced carbon emissions by more than 31,000 tons with a closed loop spend management approach.
It's clear that companies that utilize CLSM have increased visibility into their supply chains to ensure sourcing is sustainable by design. Those that use this framework for conscientious business practices can form trusted and transparent value chains that can improve their bottom line and help achieve climate change commitments.
Unlocking new value with data-driven insights
Companies that employ CLSM can generate a significant amount of value through spend management innovation. With the ongoing analysis of a wide range of market data, companies can generate real-time insights that lead to better purchasing decisions and ultimately save money – and in a year without precedent – more businesses are taking note. Data is truly the key to unlocking hidden opportunities that can help organizations remain profitable and competitive amongst their peers.
To ensure that businesses have optimal data, they must invest in digital transformation techniques that are forward-thinking in their approach to ensure greater success in the long-term. Since CLSM utilizes a human plus machine model to enable more intelligent automation, businesses can make new data-driven decisions and implement seamless operations and the necessary organizational change.
Above all else, this past year has shown that organizations need to be prepared to embrace change to stay competitive. CLSM offers companies a transformative approach to reduce costs, drive greater resiliency and help the planet by utilizing data-driven insights to make employees and the overall business future ready.