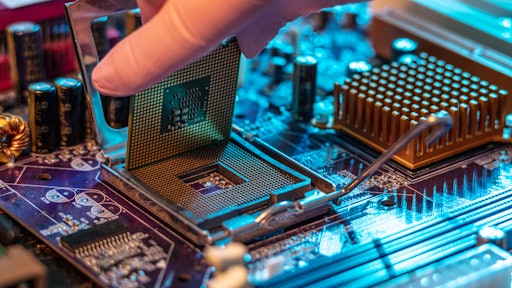 Artem AdobeStock_423257572
From raw material sourcing shortages to production issues, the manufacturing industry has experienced incredible disruption as a result of the Coronavirus disease (COVID-19) pandemic. However, with bits of positive news finally beginning to surface as vaccination rates increase and new cases decline, the manufacturing industry has begun to take a very close look at some of the key learnings they have gathered throughout this pandemic and what the manufacturing industry may look like going forward. And, one key area is innovation, especially when it comes to embracing nanotechnology.
With greater scrutiny being paid in promoting cleanliness and better protection against future global health issues, combined with the long-standing desire to make buildings, vehicles and machinery more earth-friendly, the manufacturing industry is giving nanotechnology a long hard look as a potential tool to help to tackle these challenges. This is particularly true as end-users such as renters, homeowners and motorists look for glass to be a bigger part of their homes and vehicles.
With that in mind, here are a few ways how nanotechnology and glass are being viewed as the next frontier for the manufacturing industry in the post-COVID-19 era.
Demand for glass
From all glass roofs in vehicles to the desire for more glass in residential high buildings, the craving for glass has never been higher. Unfortunately, for years builders and vehicle OEMs have looked to reduce glass use over fears of heat gain, glare and durability, among other things. However, thanks to nanotechnology driven innovations such as suspended particle device (SPD) glass technology, glass is now capable of offering much greater glare control and heat reduction. This enables auto OEMs and builders to offer a much more comfortable interior experience without sacrificing views.
Additionally, as hospitals and hotels look to make their spaces easier to clean, the "tintability" of nanotechnology-powered glass will allow them to get rid of unsanitary curtains and replace them with glass partitions that can be sanitized and cleaned much more easily and quickly.
The drive for sustainability
Buildings and vehicles are two primary drivers of carbon emissions today. In fact, as recently as 2019, buildings were both directly and indirectly responsible for 28% of the world's CO2 emissions, while transportation was directly responsible for 24%. These are obviously massively unsettling statistics and as a result, the automotive and building manufacturing sectors have been leaving no stone unturned when it comes to finding solutions. Enter nanotechnology.
For example, by leveraging nanotechnology-powered glass and its heat rejecting capabilities, automotive OEMs and builders have been able to drastically cut air conditioning use in their vehicles and buildings respectively. And, in the case of vehicles specifically, given the reduced demand for air conditioning, automotive OEMs have been able to dramatically cut the size of AC compressors, cutting weight and boosting fuel efficiency as a result.
Consumer goods and next-gen projection
Beyond the heavy equipment side of the manufacturing industry, nanotechnology-powered glass is being embraced on the consumer goods side as well -- particularly when it comes to TVs and projection. For example, some companies have begun to roll out clear TVs or TVs that resemble picture frames or the illusion of furniture, and this simply wouldn't be possible without nanotechnology-powered glass.
Moreover, as we move into a world where autonomous vehicles begin to hit the roadways and automotive OEMs transform interior experiences to give passengers "something to do" since they will no longer need to drive, this type of project technology will be key in transforming windows in computer and TV screens.
Each day, manufacturing is getting more interesting as a result of material science and innovation. And, nanotechnology -- particularly in glass -- is proving to be one of the most intriguing spaces in the material science-manufacturing revolution, especially as we continue to move through the COVID-19 pandemic.