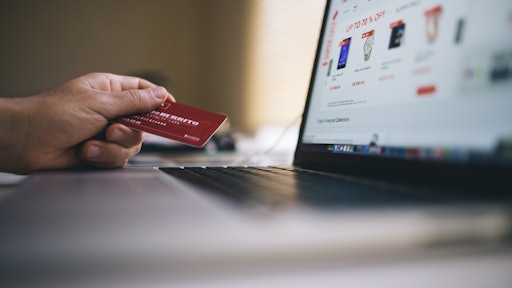 Getty Images
Over the past year, there's been much discussion about what the future will look like. What can we expect in a post-COVID-19 world? What shifts will have lasting permanence? How will supply chains adapt moving forward? There are still many unknowns in the wake of the pandemic's suddenness. After all, the pandemic brought about a lot of change – and quickly – including shifts in the supply chain. One of these shifts was modernized B2B payments.
Modern financial platforms and processes have had a role in the supply chain for years and have loosely mirrored consumer payments, albeit at a slower adoption rate. However, the payments space accelerated at a faster pace recently because of the pandemic and change in consumer behavior. Just last year, nearly half of consumers (49%) said that offering contactless payment methods is one of the most important safety measures stores can offer, according to Business Insider.
So, what exactly does that mean for the B2B space and specifically the supply chain? As we look to the future of supply chain invoicing, expect increased reliance on contactless and digital technologies like the ones seen in the consumer payments space.
Consumer trends and B2B adoption
A recent EY report claims the pandemic influenced customer behavior, and that consumer reluctance to use cash, checks or signed receipts fueled a surge in contactless payments. During the initial global lockdowns of 2020, for example, many consumers opted to use tap-to-pay technologies in brick-and-mortar retail outlets as a way to reduce the number of surfaces they came into contact with.
On the B2B side, the same report examines payments through the lens of remote work, stating a majority of B2B payments still involve paper checks and invoices, though an operational shift is in the works. Many firms that lacked digital payment sites for customers pre-pandemic now have them or are working to implement them – closely mirroring the technology already used in consumer transactions.
Regardless of a B2B or B2C transaction, people want frictionless, real-time payments. The widespread adoption and mainstream use of modern payment technologies in consumer transactions makes the same technology adoption for the B2B space easier. People who work in supply chain are still consumers in their daily lives. They've grown accustomed to digital invoice and payment solutions for their consumer purchases, making them easier to adopt in a B2B setting.
Hurdles to implementation
Modern digital payment methods are more convenient, efficient and safer than their paper counterparts. Consumers recognize these benefits and use the technology daily. So, why haven't these invoicing and payment technologies taken over the B2B environment? Supply chain businesses could certainly benefit from time and money saved, so why haven't they all implemented these solutions?
Trucking businesses, for example, have massive carrier and payment operations. These industries have historically relied on manual payment process, like phone calls for fleet check money codes, various paper forms and manual receipt reconciliation. There's a huge opportunity for these organizations to not only save time, resources and money with the right payment platform, but to also strengthen the resources to support business growth and provide data insights. When you digitize these processes, transactions can be completed quicker and reduce or eliminate human error and fraud.
However, prior to the pandemic, many logistics and supply chains businesses regarded digital tools like software enabling electronic signatures or touchless invoices as a "nice to have," but not necessarily an integral piece of how their business is conducted.
This sentiment is echoed in PYMTS B2B COVID-19 Impact Report, however, it notes that the emergence of social distancing guidelines prompted renewed interest and accelerated uptake in digital tools. In fact, the pandemic demonstrated a need to think about supply chains in new ways to create flexible and resilient business processes. Digitized payments are just one piece of the puzzle.
Future expectations
Existing paper- and phone-based payment processes in the supply chain are time consuming and error prone. Modern invoicing platforms help address these specific pain-points. However, industry experts agree that even if and when paper checks are eliminated, there is still friction remaining in other processes and workflows in the B2B payments ecosystem.
The future of invoicing is digital, increasingly mirroring consumer payments. But, an innovative invoicing solution only scratches the surface of what it means to be poised for businesses growth and resiliency in a post-COVID-19 landscape. Businesses in the supply chain should look for solutions that not only enable contactless, secure and quick payments, but also that automate an array of back-office processes on both the buyer and supplier end of a transaction. This is the key to greater visibility into business operations, more stable businesses and efficient payroll systems.
The Coronavirus disease (COVID-19) meant accelerated technology adoption for many industries. For the financial ecosystem, it meant leveraging technologies in new ways to meet drastically altered consumer payment behavior. It's important to remember that at the end of the day, we're all consumers. In the same ways consumer transactions have evolved in the past year for the benefit of the customer, expect B2B transactions to follow suit.