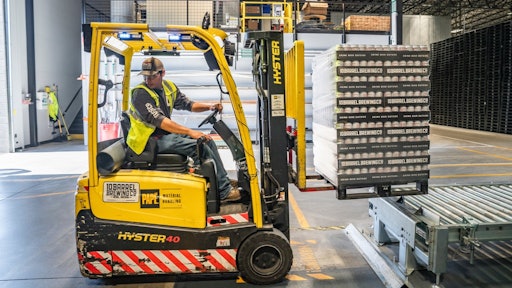 Pexels
The past year has brought unprecedented disruptions to manufacturers, and not just because of the pandemic. A series of highly unusual events—tariffs and trade wars, Brexit, a record-breaking hurricane season, a freak snowstorm, cyberattacks and a ship stuck in the Suez Canal, to name a few—all occurred within a compressed timeframe, throwing supply chains into a series of widescale upheavals. Factories still haven't fully recovered, and probably won't for months.
The experience has served as a painful wakeup call for many. A recent study estimates U.S. and European companies have lost up to $4 trillion due to supply chain disruptions. It has jolted manufacturers into questioning long-held practices that were overdue for reassessment. Companies willing to go beyond documenting and discussing their insights to put them into action not only stand a better chance of avoiding future disasters, they will become more resilient, efficient and innovative.
The seeds of change: Workplace flexibility
When the pandemic erupted, office-based businesses were forced to revamp their technology and work processes almost overnight to enable remote work. They did it, and the results were more successful than anyone could have imagined. Studies have shown that remote workers are not only happier, but more productive. Now, many companies are making work-from-home a permanent part of job scheduling.
But, the transition proved especially tricky for manufacturers. Compared with other sectors, few had flexible work policies before the pandemic. And, there was no clear solution to continue meeting production quotas and filling customer needs. How can companies meet that responsibility while keeping their workforce safe?
The pandemic forced many companies to make changes.
Factories have learned how to quickly reconfigure spaces to meet social distancing and tracing requirements in the event of another outbreak. People are encouraged to stay home if they feel sick. Executives, designers, project managers and other knowledge workers are working remotely more often. Plants whose processes allow it are changing schedules to accommodate floor workers who encounter daycare problems or other family issues.
These changes are permanent for many, and manufacturers will derive significant benefits from them. Even without future pandemic waves, safety procedures that keep workers healthier through cold and flu seasons will lower absenteeism and boost productivity.
But, the main benefit is employee satisfaction. As manufacturers compete for top talent in the office and on the factory floor, flexibility gives them an important edge. And, they've learned that they can provide it and still get the job done.
The need for flexible supply chains
Companies that extend their new-found flexibility from remote working to the supply chain can avoid some of the worst consequences of disasters like those that unfolded so dramatically over the past year and open the door to new opportunities.
The pandemic, combined with tariffs and trade tensions between the United States and China, threw existing supply chain vulnerabilities into more chaos. Just as ports shut down and inventory locked up, demand for electronics and consumer goods shot up. Suppliers repeatedly stopped and restarted production as the virus passed from one region to the next. Unable to meet their forecasts, some closed their doors permanently.
The perils of relying on low-cost suppliers overseas became glaringly apparent as some of the hardest-hit industries suffered repeated shocks. Amid an already severe shortage of semiconductors—affecting companies from computer and smartphone makers to auto manufacturers, for example—a series of fabrication plant fires slowed production in Japan. Then Taiwan—the home to two-thirds of global supply—suffered its worst drought in 67 years, a disaster for the water-intensive semiconductor production process.
The plastics industry didn't fare much better. Pandemic-related shut-downs at material factories, warehouses, and ports led to a shortage of raw materials. Then Hurricane Laura blew in, causing closures of major petrochemical factories in Louisiana and Texas. A few months later, a freak Gulf Coast snowstorm shut down a refinery responsible for producing 85% of U.S. resins.
It was almost as if the black swans were conspiring to tell us something: This is what happens when you rely too much on single suppliers or faraway producers.
The path to innovation
Some companies are heeding the swans' cries, reducing their dependence on longstanding partners—especially for key goods—and forging new relationships with a wider network of suppliers.
Yes, setting up new supply lines is a pain. But, it also gives you a chance to try out new processes—for example, many accelerated their adoption of digital manufacturing allowing them to reap the rewards of quick-turn production during a pandemic.
Companies are incorporating more local, regional and tech-enabled suppliers into their supply chain network. The approach is not only helping companies weather disruptions, but also bringing greater control to inventory and warehousing costs with on-demand production. Obtaining supplies sooner also means faster inventory turns, further increasing cash flow.
A great place to put that cash to work is R&D. Experiment with different resins or types of metal, so if the material you usually use is unavailable, you have pre-qualified backups. Model new prototypes with 3D printing. Consider new assembly line configurations. The possibilities are limitless.
The lessons of the past year have been harsh, forcing manufacturers and companies alike to adapt to a string of unforeseen and uncomfortable circumstances. By opening their minds to more agile alternatives—both at the workplaces and along the supply chain—some are discovering a path to a more resilient, inventive future.