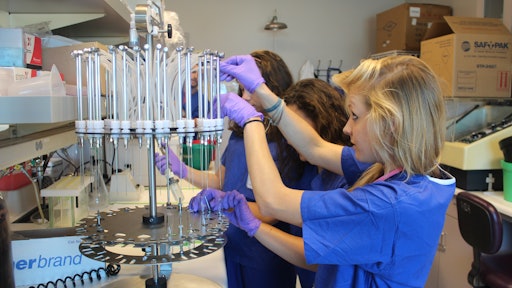 Massachusetts easily conjures up images of crisp fall days, ivy covered brick and a certain prestigious university campus. But what is maybe less well-known is the state's long history of innovative manufacturing.
Organomation, founded in 1959 by Dr. Neal McNiven, is proud to be part of that tradition. McNiven, a chemist by trade with an engineering background, foresaw the need for sample preparation instruments required for chromatography and invented the first commercially viable nitrogen test tube on the market. The N-EVAP remains Organomation's best-selling product line to this day, and it is what the company is best known for. It also offers a handful of other product lines, but specializes in general laboratory equipment for municipal industries such as education (Ivy League universities), environmental markets (EPA) and research organizations.
What really sets the manufacturer apart, though, is its unique business model of sourcing all parts domestically.
"[American manufacturing] is one of those things we've always done, and the formula works for us," explains Organomation's General Manager David Oliva.
"It really does provide us a competitive advantage," he adds. "While we might be five times more expensive compared with our competitors on some instruments, we continue to grow both domestically and internationally."
Oliva notes that Organomation also prides itself on its level of repeat business.
"People have a really good experience with the product, and when it does come time for them to buy a new one, they're not evaluating new alternatives; they are just interested in replacing what they have with our updated model."
Part of that great customer experience is due to the longevity of its instruments, which Oliva says is "really only possible due to the craftsmanship of our in-house technicians but also the quality materials, most of which are sourced domestically."
In fact, many of its vendors are within five or 10 miles. During a recreational trip on a local bike path a few towns over Oliva recalls actually riding by three or four vendors Organomation does business with.
"That really speaks to Worchester County in terms of all the manufacturing that is still in the area," he adds.
And while Massachusetts is certainly known for education, Oliva notes its technical schools are often overlooked, including the many people with metalwork, fabrication and welding experience necessary for American manufacturing.
"Even though unemployment is extremely low, we've still been able to find good people with the skills we need, and that's really the most important thing in keeping this business running," he says.
Organomation's 17 employees, a mix of part- and full-time, are another major competitive advantage.
"We have the in-house expertise and experience and control over every process. This has allowed us to improve efficiency and remain price competitive," Oliva explains. "Our product attributes wouldn't be what they are if we didn't have that level of in-house expertise. That speaks to the quality of materials we're sourcing but also everything being built by hand. We really put together a product we can stand behind.
"If we were producing instruments elsewhere, I don't know how many cases we would have of customers who have instruments in the field for 10 or 15 years. I just don't know if that would be a reasonable expectation if the quality and craftsmanship isn't where it is now," he adds.
Though bringing much of the manufacturing in house has helped Organomation remain price competitive, as a small, family-owned company, it is still a challenge, in addition to staying on top of fast-moving lab tech trends. On the flipside, however, Oliva notes the problems that its instruments are solving, such as air quality and water testing, are not going away.
"We certainly are the little guy—there's no doubt about it. Thus, one of the biggest challenges is staying on top of technological developments and making sure we can help the chemists of tomorrow complete their work effectively," he says.
The general manager adds: "We have an extremely strong brand, part of which is tied to being made in the United States. We have a lot of pride in [American manufacturing], and we've been able to stay true to ourselves, not having to compromise in terms of lower quality materials or employee compensation. We've managed to have a very successful small business, which we think is something to be very proud of in this day and age."
Follow Amy Wunderlin on Twitter.