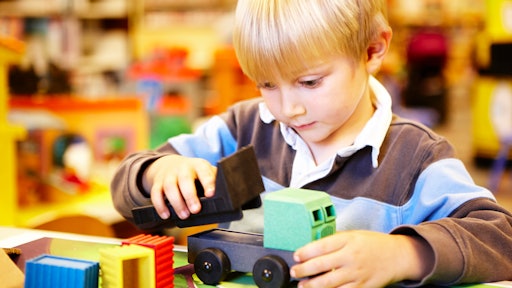 Luke Barber wasn't exactly sure what he was going to do after he graduated from college. With the gloom of the 2008 recession still hovering over the job market, his father, Jim Barber, suggested he play around on a software program he had recently puchased for his new startup, Luke's Toy Factory.  
"He's a millennial, and they have this ability to look at something on a computer and figure it out," Jim says. "I couldn't figure it out, but I knew he could."
A few weeks later, Luke designed the company's first toy—a little red fire engine.
The idea behind Luke's Toy Factory began long before Luke ever got his hands on the software, however.
Jim first dreamed of reviving American toy manufacturing after a major scandal involving Chinese-made toys shook the industry. In 2007, Mattel, the world's largest toy company, recalled 436,000 die-cast toy cars after it was found they were coated in lead paint. That same year, Mattel also recalled nearly 19 million other Chinese-made toys because their small, powerful magnets could be harmful to children if swallowed.
To Jim, the scandal signaled a toy industry gone awry. It felt like companies were straying away from what they had originally intended to do and what toys are for—to make children happy.
"The toy industry had gotten away from caring about kids to caring more about profits," Jim says. "I wanted to watch every step of the [manufacturing] process to make sure it was done right."
With the visison secured, Jim and his business partner jumped right in and secured the machines and software needed. However, his partner left the company once he realized how hard it was to start a business.
Following Luke's prototype, another father and son team, Mitch and Evan Achiron, joined the business as a graphic designer and social media coordinator. Luke's Toy Factory was born.
To initially get their product off the ground, the company created a Kickstarter fundraising campaign with a goal of $15,000.
"It covered getting started, and with toys, there's a testing regimen that you have to go through," Jim explains. "The big part is getting people to look at your project. There's so many people on the platform."
For Luke's Toy Factory, transparency has always been important. The company relies heavily on eco-friendly materials to make its toys safe, so allowing donors to see each step of the process was crucial to the campaign.
"It's a really important way to get attention. Especially with a company like ours that is manufacturing in America and trying to use eco-friendly material," Jim says.
Each toy is made of 30 percent saw dust and 70 percent plastic. The company found it necessary to partake in sustainable and safe practices during production not only because they felt it was the right thing to do, but because of pressure from the Chinese toy scandal.
A Higher Standard
When the company first incorporated in 2012, Jim made his way to the National Plastic Exposition to learn more about the manufacturing process. With a background in advertising photography, Jim says he didn't know a lot about what goes on behind the scenes.
"I came into this business knowing absolutely nothing about manufacturing," he says. "The more I get into manufacturing, the more I learn about what doesn't work and what does."
When he arrived at the conference, he learned more about the molding process and determined recycled plastic was the right fit for him. However, some plastic recyclers at the show didn't want anything to do with him in fear of being sued.
"A lot of the issues that we've encountered in doing this project stem from being a toy company. There's extra levels of care that have to be taken as a manufacturer," Jim explains. "To take that back further in the supply chain, there has to be an extra level of care that comes by a materials supplier for the same reason."
 According to the Consumer Product Safety Commission website, "all toys intended for use by children 12 years of age and under must be third-party tested in a Children's Product Certificate as compliant to the federal toy safety standard enacted by Congress and to other applicable requirements as well."
But it was important to the Barbers to use eco-friendly and recycled material in their toys, so the company was prepared for the high standards its toys would be held. Unlike in traditional toy manufacturing where the toy's colors are often painted on, Luke's Toy Factory molds the color of the toys into materials free from chemicals such as BPA or phthalates.
Luckily for Luke's Toy Factory, the production process takes about a month, making it easy to get its product out to consumers. With its products being made up of 30 percent sawdust, it changes how the part works through the heat cycle, meaning that it doesn't have to heat up or cool down, essentially speeding up the cycle time. The company also prides itself on working with companies close to its headquarters in Connecticut, so that they're able to drive to get their materials instead of facing hefty shipping costs.
STEM Education
Starting in 2018, Luke's Toy Factory began marketing its toys toward educators in two different catalogs. Aimed at children ages 3 to 5 years old, teachers are able to introduce students to basic concepts such as counting and colors. And the response so far has been positive. In the first half of the year, the trucks have been implemented in hundreds of classrooms.
"Teachers get it right away," Jim says. "The way that the toy is built isn't difficult. There's no instruction manual, so kids are able to figure it out for themselves."
Jim describes the toys as a 3D puzzle that become a truck when assembled. The pieces are specifically designed for small hands, and parts can be mixed and matched. The toys help children develop their fine motor skills and help them learn about what each truck represents. For example, the company sells a toy recycling truck and a toy fire truck. Educators and parents can help explain to children what roles the trucks perform.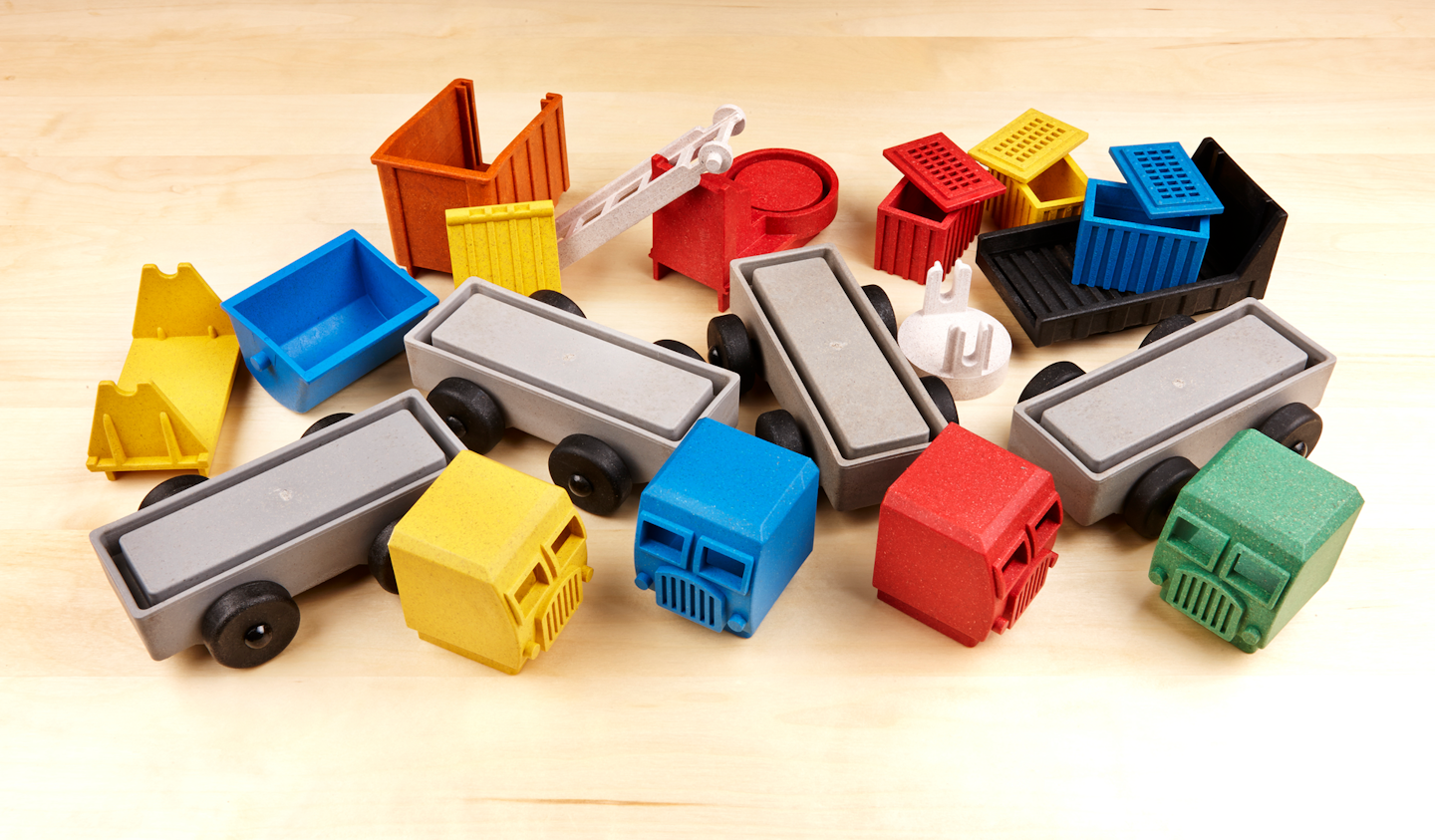 The father and son teams also made the conscious decision to keep their product out of big retail stores, instead favoring mom-and-pop stores across the country. Jim explains that smaller stores are able to set up a better display of the product, and in a chain store, the company would risk knock-off competitors within a year.
Besides the safety benefits, overall it is important to Luke's Toy Factory that its toys are made in America and are bringing more jobs back to the country.
"Not everyone can be a scientist or a computer engineer. There are plenty of people that just want a day-ends work. They want to wipe their hands and do a good job. You learn by doing, and you learn by working on the job," Jim says. "Local manufacturing is going to come back. There's a revolution in the process."