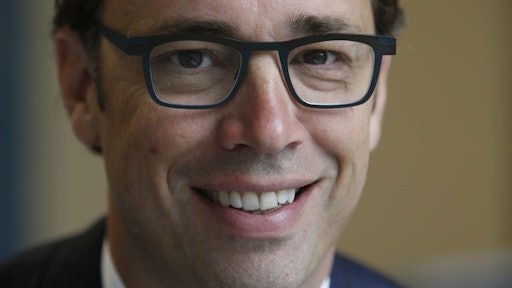 In the classic 1985 movie, Back to the Future, teenager Marty McFly returns home from the '50s in a modified DeLorean car that serves as a time machine and his scientist friend, "Doc" Brown, departs into the future—2015. It was 30 years ago when moviegoers first watched that scene on the big screen. With 2015 upon us, we know Doc found a drastically different world than what existed in the 1980s.
The year that sounded so futuristic finally arrived and the industrial Internet of Things—not even a gleam in anyone's eyes—powered by big data and analytics is becoming the catalyst for digital disruptions that are blurring industry lines, and changing how we work and live.
At many companies, the industrial Internet of Things is seen as a vehicle to help improve operational efficiency and many are considering the role of digital technologies in their supply chains. But as my colleagues recently wrote for The Wall Street Journal, "Companies also need to be thinking now about how to use it to drive revenue growth in new ways. Some are already moving quickly to do so, pioneering paths other companies can follow. They are starting to introduce new digital products and services that address unmet customer needs or solve critical business problems."
While the opportunity is great, much work needs to be done. Two-thirds of 250 executives surveyed from across eight industrial sectors for the Industrial Internet Insights for 2015 Report from Accenture and GE acknowledged that they could lose their market position in the next one to three years if they do not adopt big data, which feed the intelligence of the industrial Internet of Things. Why wouldn't they think so? Virtually all of the surveyed executives (93 percent) said they see new market entrants (in other words, new competitors) using big data to differentiate themselves.
Although most companies acknowledge that big data is a top priority, only one-third of those surveyed are accumulating data to help them optimize their business. Still, they believe their prospects for future competitiveness are tied to their use of advanced analytics if they want to realize the promise of the industrial Internet of Things.
There is a silver lining. Nearly two-thirds of the companies use big data analytics to monitor their equipment and assets to identify operating issues and enable proactive maintenance. But that means that one out of three is not yet doing so. And, that is really just the tip of the iceberg as it relates to the art of the possible with today's technology.
What we're talking about is potentially trillions of dollars in new services and overall business growth as a result of the industrial Internet of Things. Reaping those rewards may require many companies to work through a multitude of issues ranging from system barriers that hinder consolidation of disparate data for use in a data repository to security concerns.
So how do companies get there from here?
Invest in end-to-end security. Security concerns are rightfully top of mind for many companies as they invest in big data and build their foundation for bringing the industrial Internet of Things to life. Protecting data, irrespective of the nature of it, should be considered, and that begins with an assessment of the risks and consequences inherent in its collection and use. Objectives and goals to help manage against security risks can be established, and should be addressed across the supply chain. Strong corporate buy-in and governance is important.
Break down barriers to data integration. Companies need centralized analytics so that they have one version of the truth. Only about one-third of the companies that participated in the Industrial Internet Insights study adopted big data analytics across their enterprise. Unfortunately, that has ripple effects that hinder realization of returns from analytics investments. New technologies, such as data lakes, combined with industrial Internet capabilities can enable a company to funnel data collected from various networked machines onto a single platform for analysis. As important is the need to work with companies in other sectors that can increasingly form new supply chain partnerships and ecosystems at the heart of emerging industrial Internet services.
Leverage mobility technology to deliver analytic insights. Many of today's industrial workers need access to information that isn't readily available to them because their jobs require them to be up and about. In response, new Internet user experiences should be developed to support hands-free interactions, enable meaningful integration of data and tools so that workers do not need to operate multiple complex software systems, and create data-driven, collaborative workflows that anticipate the next step and intuitively adapt as needed.
Adding this connective tissue can contribute to the foundation of what companies need as they transform their supply chains to create digital supply networks, and more closely integrate their talent with their physical, information and financial supply chains.
Focus on talent acquisition and development. Many companies have talent gaps in critical areas that affect data analysis. Recognizing there is a shortage of qualified people with advanced data analysis capabilities, many companies may augment their teams by using skilled external talent who can quickly translate business needs into analytics solutions. In fact, recent Accenture big data research found that 95 percent of respondents globally tapped external help for big data implementations. Additionally, some companies team with universities to groom the needed talent.
Think boldly about new business models. With the aid of big data analytics, the industrial Internet of Things makes it possible for companies to break the rules as new information and insights are making it possible for businesses to go where their industry previously didn't tread, producing new products and services, and even pushing the boundaries of what was previously considered.
Executives should ask: What product-service hybrids would my customers and their customers find appealing? What valuable products and services can we deliver in light of the information we now have? How do we set up the services-and-solution business model that would enable us to deliver added revenue-creating value? How can we re-envision our supply chains to create digital supply networks that connect business ecosystems, deliver intelligent actionable insights, achieve scalability and facilitate rapid responses, given that speed is going to be one of the future's most important currencies?
Manage regulatory risks. Industrial companies are subject to a myriad of regulatory requirements that encompass safety, emissions controls and effective use of resources, to name a few. Machine data that is collected and analyzed can support predictive maintenance; systems that monitor and provide early warning of equipment failure, process noncompliance and quality issues contribute to proactive risk management; and use water use management and even leverage historical data from machines for audit purposes.
While much needs to be done, the race is on. Leading industrial companies have their foot on the gas and are moving rapidly to realize the gains that are possible when they harness the industrial Internet of Things. As they do so, the establishment of big data analytics capabilities that can help them become formidable competitors well into their future is high on their agenda.
Companies in this article