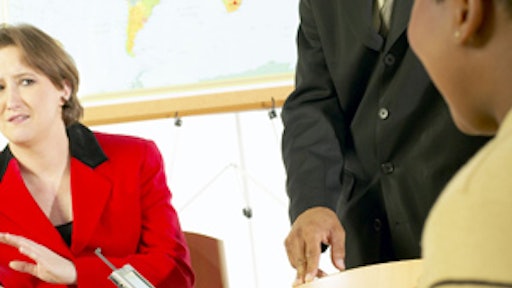 Collaborative Planning, Forecasting and Replenishment (CPFR) is an evolving business practice that seeks to reduce supply chain costs by promoting greater integration, visibility and cooperation between trading partners' supply chains.
The term trading partner can be applied to almost any combination of suppliers, manufacturers, distributors or retailers. CPFR itself is an outgrowth of earlier collaboration efforts like JIT (just in time), VMI (vendor managed inventory) and others.
The Voluntary Interindustry Commerce Solutions (VICS) Association has taken the lead role in defining a framework and guidelines for conducting CPFR. The VICS CPFR model outlines a general framework for CPFR that includes the following elements: Strategy and Planning, Demand and Supply Management, Execution, and Analysis.
Strategy and Planning encompasses the development of joint business plans and the terms of collaboration. Demand and Supply Management focuses on forecasting and order planning. Execution involves the generation and fulfillment of replenishment orders. Finally, Analysis addresses processes for exception management and scorecarding.
At present, CPFR represents the most encompassing, well-defined framework for enabling supply chain integration across organizational boundaries. Here are some of the factors that make CPFR appealing, as well as some of the reasons why it can be challenging — or in some cases, impractical — to implement and sustain.
Aligning Business Goals
The first step in initiating an effective CPFR relationship is also the most likely to derail the effort or result in suboptimal results or less-than-ideal partnership relations if not executed properly and thoroughly: Both organizations must perceive the initiative to be a win-win proposition.
Indeed, any collaborative agreements between potential trading partners must ensure that both parties share in potential cost savings and revenue enhancements. Necessary steps to ensure success for both parties include:
Conducting joint visioning sessions to define the value proposition for both sides;
Developing an overarching mission statement;
Clearly defining roles, responsibilities and expectations; and,
Preparing detailed operating plans (i.e., an established set of data, communication protocols and clearly defined business rules regarding partner roles/responsibilities, etc.)
Aligning business goals can be a challenging process, since it often means that business practices or processes that benefit one party must be discontinued or modified if they're not equally rewarding to a potential new collaborative partner. Examples include the practice of so-called "channel stuffing," wherein a retailer or distributor is persuaded to periodically absorb larger-than-needed replenishment orders to help a supplier or manufacturer achieve key business objectives, like a quarterly revenue goal. In collaborative alliances, mutually agreeable metrics and shared inventory goals/targets would make such practices impractical.
In other cases, companies that require front-end agreements, often with financial incentives and penalties tied to performance, may have trouble finding willing suppliers. Powerful organizations like big-box retailers are notorious for strong-arming trading partners by applying punitive financial measures like charge-backs or other punishments like shelf-space reductions when suppliers fail to meet agreed-upon metrics. Such requirements can leave many potential partners reluctant to engage in CPFR. Suppliers who find themselves faced with the choice of engaging in CPFR alliances burdened by such disincentives should think twice before entering such agreements.
Supply Chain Maturity
Another very important factor that will dictate a company's ability to engage in CPFR is organizational readiness. Various models exist to define the maturity of organizational supply chains. Usually these models define discrete operational stages and generalize various states of supply chain planning capabilities within an organization. Each succeeding stage is defined by increasingly higher levels of collaboration, integration, process maturity and technological sophistication.
Early-stage supply chain models are characterized by low levels of both internal and external collaboration, the use of simple tools like spreadsheets for developing forecasts and ad hoc processes for developing inventory targets and replenishment plans. Organizations with mature supply chains use advanced planning software systems, have well-defined processes, employ cross-functional teams and collaborate at some level with suppliers and/or customers. These late-stage organizations are often characterized by robust processes for internal collaboration, including consensus-based forecasting that utilizes input from sales, marketing and supply chain operational groups. Such practices are often part of a well-defined sales and operations planning (S&OP) process, which is also characteristic of late-stage supply chains.
The Supply-Chain Council, a supply chain advisory organization comprised of individuals from various voluntary member companies, publishes its Supply-Chain Operations Reference-model (SCOR), which many consider a de facto industry model for supply chain organizations. SCOR is a helpful framework for identifying best practices, designing supply chain processes and selecting appropriate software solutions. SCOR can also be used to provide a roadmap for continuous improvement by helping you benchmark how your own supply chain practices and processes measure up along the maturity continuum.
Decision-makers with early-stage supply chain organizations will face an uphill climb if they hope to engage in CPFR. Success typically requires advanced planning systems, proven ability to manage internal collaboration and similar characteristics of late-stage supply chains. To save time, money and resources, all these attributes should be in place and entrenched within your organization before you begin pursuing or considering external collaboration opportunities.
Scale or Critical Mass
Despite the infrastructure requirements needed to sustain partner operations, CPFR offers the promise of distinct, measurable financial returns that can be quite appealing. Frequently cited benefits include increased sales due to improved service levels and responsiveness to promoted demand, reductions in manufacturing and distribution costs due to more stable forecasts, and reduced inventory based on the tighter coupling of trading partners' supply chains.
Tightly woven supply chains reduce the need for safety stock, also called coupling inventory, which is used to hedge against variability in both demand and supply. There are also intangible benefits to be gained from effective CPFR alliances, principally improvements in relations between trading partners. For example, partners that can prove their capabilities to consistently meet mutually agreed goals for their CPFR customers are likely to receive preferences in terms of shelf space allocation or distribution. (See sidebar "Key Financial Benefits of CPFR.")
Of course, offsetting any potential rewards that may arise from CPFR is the corresponding set of financial costs that may be necessary to establish and maintain such an arrangement. If your goal is to develop a CPFR initiative primarily to achieve greater forecast accuracy, your effort won't be economically feasible if it isn't scalable enough to yield significant financial savings, at least equal to an appreciable percentage of one trading partners' total revenue. Many business leaders presume incorrectly that they can overcome the requirement of CPFR to provide scalable savings simply by replicating their CPFR process among numerous trading partners. This expectation will likely fail — in part because of one-time start-up costs, but more likely because of customizations that are necessary to accommodate each additional trading partner.
For this reason, CPFR is most likely viable only for your top-tier trading partners. For your smaller customers or suppliers, it makes better economic sense to manage relationships based on more conventional, order-based transactional processes.
Other Considerations
While CPFR may seem to be a good bet, based on the size of your business and the strength of your existing infrastructure, it may not be well-suited to your industry. Highly promoted products, new products and high-fashion products (seasonal items or those with a very short lifecycle) are all good candidates for CPFR.
On the other hand, products with inherently short lead times, that are not highly promoted, or those with future demand patterns that can be easily extrapolated from past demand provide less of a financial payback using CPFR.
Technology
In real-world applications, supply chain managers use a variety of technologies to support their CPFR operations. These tools generally fall into one of two camps: shared applications that are hosted either by a third party or one of the trading partners, or peer-to-peer communications processes in which each partner operates its own system.
In the latter example, both parties typically agree to use a common data-transfer protocol like electronic data interchange (EDI) or file transfer protocol (FTP) to exchange data. The key to making technology decisions regarding CPFR is agreement on the use of acceptable data standards and protocols, particularly when there are multiple trading partners in your CPFR marketplace.
Be advised that integrating partner data into your own planning systems and databases carries a significant change management risk that, if underestimated, can result in mistakes that may trigger delays in system design, development and deployment, as well as significant, unexpected expenses.
Exception Management
The sheer volume of data required to evaluate and execute supply chain decisions makes exception management an essential part of any CPFR solution. But many organizations don't have effective tools, processes or procedures in place within their internal supply chains to support exception management.
Since CPFR collaboration efforts typically occur on a weekly or monthly basis and not in real time, quick follow-up is necessary to prevent exception-management processes from going off track. In situations where trading partner agreements include financial penalties, exception management is especially vital to controlling costs.
Organizational Change Management and Education
One of the most difficult things to manage when engaging in CPFR is the organizational change necessary to support and enable the process. Even in organizations with well-developed supply chain processes and technologies, existing roles and responsibilities will need to be realigned to effectively support CPFR.
On the supplier side, supply chain, sales and customer service roles will need to be reorganized into virtual CPFR teams. On the customer side (i.e., the distributor or retailer), buying, marketing and merchandising functions will need to be organized and managed as a CPFR unit. For example, within a supplying partner's organization, personnel in the traditional roles of sales or account management will need to take a step back and cede control of traditional sales responsibilities to members of their CPFR team to handle issues such as specifying order size, timing and promotions planning. Within the customer partner's organization, some of the tasks traditionally associated with the role of product buyers will also shift to members of their own CPFR team.
This necessary realignment of traditional organizational roles can be quite disruptive, with strategic, tactical and "political" implications that extend far beyond the realm of supply chain operations. Self-interest is deeply ingrained in human nature, and as with any change-management initiative, very few companies will find it easy to overcome resistance to the change that is necessary to accommodate an effective CPFR business process. One of the challenges of transforming from an early-stage supply chain operation to a more mature model is breaking down the functional silos that exist internally within organizations to enable cross-functional collaboration. Bear this in mind as a point of reference as you consider the implications of collaborating with external partners.
CPFR initiatives require buy-in at every level of an organization. Existing S&OP processes will likely need to change when CPFR initiatives are launched; and in best-case scenarios, top management will drive change-management messaging and practices.
Education is another key to helping personnel — at all levels of an organization — understand CPFR processes, the implications of change, potential benefits of CPFR and the importance of supporting such initiatives. Ideally, in the spirit of collaboration, educational workshops will include participants from both trading partners to help foster a shared sense of commitment to ongoing improvement and to provide a broad sense of the big-picture implications beyond the scope of each individual partner's operations.
Making a positive impression on the human resources involved on both sides of a CPFR alliance is a vital step in laying a solid foundation for success, but it requires focused attention as well as an educational investment: to set goals and objectives, to resolve conflicts, to establish a shared sense of fundamental supply chain concepts, and to provide training on day-to-day processes and tools — the nuts and bolts required to operate the system.
When it comes to new system rollouts or new operational ventures like CPFR, education and training are typically overlooked, underestimated or under-funded, but it is a critical component to ensuring the success of such endeavors.
Conclusions
There are many case studies detailing the effectiveness of CPFR relationships and many examples of positive financial and intangible benefits to be gained by both trading partners. On the surface, such benefits may seem tempting, but it's also important to fully weigh the costs, implications and requirements of engaging in CPFR relationships.
Many overly ambitious projects have had to be abandoned or scaled back — to co-managed inventory alliances or joint forecast projects — because one or both trading partners did not fully understand the obligations. Even when two partners seem ideally suited and share similar cultural values, unforeseen circumstances like organizational and market changes can disrupt CPFR relationships. Choosing your partners wisely and carefully evaluating the compatibility of people, process and technology are all keys to success.