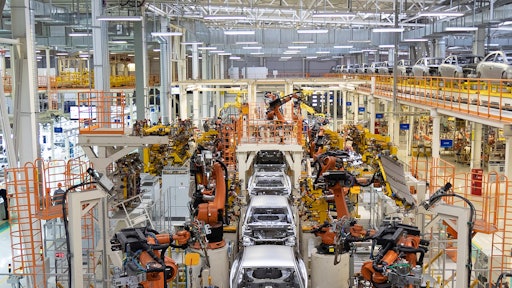 AdobeStock_233322730
The Coronavirus disease (COVID-19) vaccine rollout provided a glimmer of hope for those dependent on a regular supply chain flow – the return to business as usual was in sight. However, the Delta Variant paired with slow-to-move changes in the supply chain have shifted the chip shortage outlook. With semiconductors being an essential organ to connected devices, including cars, smartphones and any technology in the Internet of Things (IoT), the supply chain backup is at industry crisis level.
A looming pandemic recession caused technology developers to cancel orders for chips, thinking consumer demand would be low. In the highly competitive global autos industry, the crisis compounded exponentially when the industry faced an unexpected spike in demand for cars, influenced by consumer spread to less populated areas in tandem with driver-friendly travel restrictions several months after the pandemic hit. Automakers were left trapped in a bottlenecked supply chain predicament – high demand for vehicles with no chips to fulfill that demand.
One of the greatest compounding factors is the power overseas markets hold on the U.S. auto industry. Much of the chipmaking power comes from Taiwan and China; it's no surprise the supply chain will be backed up for years ahead.
For consumers, the outlook is glum – new vehicle prices are at a high, with the average price of a new vehicle currently at a record $41,044 in July according to J.D. Power. Used car prices are high as well – with the lower supply of new vehicles in the market and fewer leases and trades, used vehicles are in high demand. Meanwhile, car lots sit empty at dealerships due to vehicle order delays as factories have halted production amid the chip shortage.
The chip shortage shows no sign of easing up until at least 2022. So, how can the U.S. auto supply chain overcome a situation where the circumstances are stacked against it?
Product designers are now in a moment to shine
It's time for American innovation at its best, while the chips are down – literally. Automakers must adapt to the circumstances of the chip shortage in ways they haven't had to since the stagflation of the 1970s.
Car designers have begun to adapt to these conditions – manufacturers have restarted production on chip-less autos. Nearly complete vehicles wait in massive lots for the next shipment of chips. Some manufacturers are taking the innovation a step further, using more accessible chips rather than highly specialized auto chips from overseas.
Designers may also have to rethink the lines of communication and collaboration in the manufacturing process to help smooth out areas where the supply chain is fractured. While most areas of business have implemented innovative toolsets, product managers are building processes, formulas and spreadsheets from scratch in the hopes of gaining an advantage against the complexity of their product line. This needs to change for managers and designers to stay in tune with consumer demand, short supply and a tenuous marketplace and find areas that can drive sales success.
Focus on U.S. manufacturing talent
Homegrown talent is essential to the reopening of the chips supply chain pipeline, particularly in the auto sector. Auto plant shutdowns and temporary layoffs have left thousands of Americans out of work over the course of the past year. Because automaking is so specialized and highly focused around concentrated manufacturing areas, the current system makes it difficult for workers to transfer manufacturing skills from one sector to another.
As part of their plans to reduce the verticalization of semiconductor availability overseas, companies should rethink how workers are educated and gain access to learning new skills. It's best to better educate or even reskill our homegrown workforce toward a goal of increased semiconductor manufacturing in the United States to avoid future bottlenecks built on overseas suppliers.
Increasing auto chip-making in the United States would also help improve privacy and cybersecurity as vehicles become more connected and tech-savvy, thus, more susceptible to cybersecurity and privacy issues. Diversifying the chip manufacturing market and increasing the number of chips that are made and regulated in the United States makes it harder for cars of the future, especially self-driving vehicles, to be hacked, reinforcing the safety and security of drivers.
Automakers need backing from Biden Administration
The Biden administration plays a vital role in the future success of the auto industry for its bargaining power with overseas chipmakers and on the national policymaking stage. A Biden task force met with auto industry executives in April to discuss short- and long-term strategies for overcoming the chip shortage.
Government investing in the U.S. semiconductor industry will be a pivotal area to watch in the months ahead.
The Biden administration holds the keys to a variety of financial incentives to help restore the supply chain – from better workforce education and reskilling initiatives to tax credits for manufacturers to help companies offset the cost of creating new semiconductor production lines in existing facilities.
While the domestic auto industry may only account for a fraction of chip demand globally, the economic consequences in the United States are high for having a crippled auto supply chain. Manufacturers need to encourage innovation, growth and diversification in the auto sector to find creative ways to work around the chip shortage, tapping tech leadership and tech tools to streamline the production process.