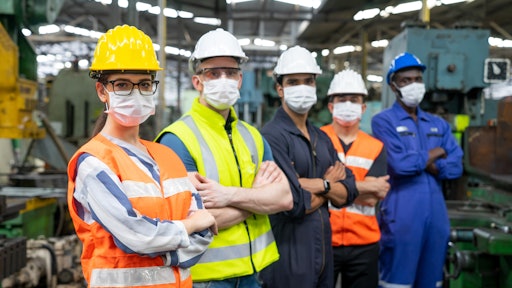 godji10 - stock.adobe.com
SafetyCulture acquired SHEQSY, a cloud-based lone worker safety app that provides faster, data-enriched emergency response for lone frontline workers.
"Frontline workers make up 80% of our global workforces. They're our first responders who can capture information that would otherwise be missed: our eyes and ears, at the actionable point of risk. Despite this, they've been historically underserved when it comes to technology, especially lone workers. Just 1% of venture capital funding is invested in tooling to support the frontline workforce," says SafetyCulture CEO and founder Luke Anear.
"The last two years have shown us the importance of safety across all industries. We're excited to be helping more businesses to access SHEQSY's unique, innovative technology so that this essential group of workers feel more protected in their roles day-to-day," adds Anear.
"Partnering with SafetyCulture gives us the opportunity to accelerate our international expansion and protect millions of lone workers around the globe," says Hays Bailey, CEO and founder of SHEQSY. "We built SHEQSY to give these individuals access to a mobile-first safety solution, making clunky devices a thing of the past. The features we built into the mobile app are currently the best solution for lone workers available and by teaming up with SafetyCulture we can continue to build on that strong foundation. The pandemic has reaffirmed the importance of our mission more than ever as we continue to help businesses ensure the safety of employees working alone in the community."
From BusinessWire:
With activity timers, customizable check-ins and access to a panic button, SHEQSY enables frontline workers to complete their day-to-day tasks with confidence, accessing assistance if or when they need it.
Deployed via smartphone app or with integrated handheld satellite devices for workers in more remote locations, managers can monitor their workers via the SHEQSY dashboard. If an employee requires assistance, they can immediately notify designated contacts and emergency responders with their precise location.
To begin, lone frontline workers will activate SHEQSY via the app, confirming activity type and duration. As they work, employees can check in periodically with the ability to extend their activity or activate a panic alarm if assistance is needed. Team leaders can view employee activity in real time, publish roll calls to confirm employee wellbeing in the event of an incident, and run detailed reports of all lone worker activities. Distress alerts are sent by automated phone call, SMS and/or email, or teams can opt to use SHEQSY's 24/7 monitoring center.
In addition,

SafetyCulture

partnered with RapidSOS to send automatic, real-time alerts to RapidSOS Safety Agents and 911 personnel in an emergency.