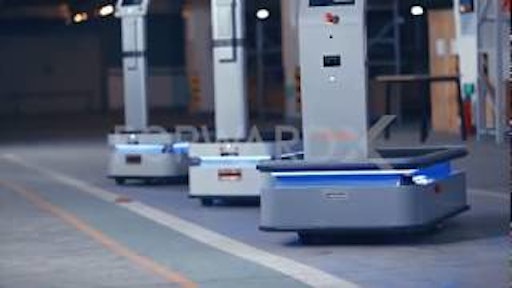 ForwardX
ForwardX Robotics, an award-winning innovator in the artificial intelligence (AI) and robotics fields, announced it will demonstrate the world's only Computer Vision-based Autonomous Mobile Robot fleet at MODEX 2020.
Following the opening of ForwardX's U.S. headquarters in San Diego and its international test center in Phoenix, MODEX 2020 also marks the official launch of ForwardX's cutting-edge solutions for logistics, manufacturing, and retail in the Americas.
"Shifting consumer demands continue to drive huge changes in logistics, manufacturing, and retail businesses. With shorter life cycles in manufacturing, and the rise of omnichannel retail and e-fulfilment in logistics, flexible and collaborative automation solutions are all-the-more necessary to supplement the human workforce. ForwardX's visual AMR allows our clients to adapt quickly in highly dynamic environments with rapid deployment for greater uptime," says Nic Temple, VP of Sales Americas for ForwardX Robotics. "In 2019, roughly 40,000 mobile robots were sold worldwide, yet the expectation is for our market to grow tenfold over the next three years, with a predicted revenue of $10.5 billion USD in 2023."
Why ForwardX?
• Best-in-class technology. As the world's only computer vision-based AMR fleet, ForwardX's solution perceives the environment like no other. Using sensor fusion to integrate data inputs from RGB, RGBD, LiDAR, Radar, and Ultrasonic sensors, ForwardX's state-of-the-art deep learning and reinforcement learning algorithms deliver greater localization, more accurate obstacle avoidance, and more efficient path-planning capabilities in the most dynamic of environments, such as warehouses, distribution centers, and manufacturing plants.
• Unrivaled fleet management. Along with its future-proof hardware, ForwardX offers a comprehensive platform for effectively managing your fleet. Whether expanding up to 200 robots or staying small-scale, ForwardX's fleet manager includes centralized scheduling for both robot and human tasks, seamless integration with WMS/MES/ERP/PLC systems, advanced traffic control for facility bottlenecks, optimized battery management for 24-hour operation, and highly customizable analytics for productivity and efficiency tracking. What results is smooth, efficient operations regardless of a facility's size or layout, or a fleet's size or density.
• Proven in industry. While it may be making its first foray into the Americas market, ForwardX already has a plethora of experience implementing its solutions in the logistics and manufacturing industries worldwide. Currently serving a number of Fortune 500 companies, ForwardX has seen an average increase of 2-3x in productivity metrics, such as UPH and throughput, and a labor cost reduction of up to 51%. Experienced in warehousing, 3PL, and manufacturing facilities, ForwardX's AMRs provide highly flexible and adaptable solutions, with a number of hardware and software customization options to fit any scenario.
• A true turnkey solution. While the AMR market is set to grow quickly, many traditional businesses view deployment and installation as major barriers to AMR adoption. ForwardX recognizes this and aims to help clients achieve maximum success by providing a true turnkey solution, not only supplying the technology, but also offering its expert team of deployment engineers and project managers to ensure rapid, hassle-free deployment with minimal disruption to the facility.