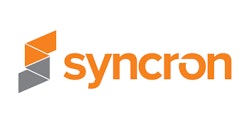 Syncron, a provider of cloud-based aftersales service solutions focused on empowering the world's leading manufacturers to maximize product uptime and deliver exceptional customer experiences, announced that Twin Disc has selected Syncron Price to optimize and streamline its global service parts pricing.
Twin Disc designs, manufacturers and sells marine and heavy-duty off-highway power transmission equipment and is implementing new processes and technologies within its aftersales service division to improve efficiencies - and ultimately enhance the customer experience. As part of this initiative, Twin Disc identified service parts pricing as a key area of optimization.
"Welcoming great brands like Twin Disc to the Syncron customer portfolio validates a key premise of Syncron's strategic direction and vision: That leading manufacturers around the world are increasingly investing in the often sub-optimized after-sales service side of their businesses to set themselves apart from the competition. At Syncron, we're honored to have the opportunity to enable respected manufacturing brands like Twin Disc as they transform their service parts pricing processes," says Gary Brooks, Syncron CMO.
As Twin Disc's service parts pricing needs and capabilities mature, the company aims to implement more value-based pricing approaches to further enhance the customer experience. In addition to the ability to implement value-based pricing, Twin Disc identified several key benefits of working with Syncron:
A seamless implementation and onboarding experience
An advanced UI and UX that does not require customizations prior to implementation
Easy connection to any ERP system
Syncron Price will be implemented across Twin Disc's global network, which includes 250 distributor sales and service locations in 53 countries.
"Twin Disc is a one-hundred-year-old company, and we are thrilled to partner with them as they evolve and transform their aftersales service organization," said David Reiling, Chief Customer Officer at Syncron. "We believe Syncron Price can help take Twin Disc to the next level of service parts pricing optimization, ensuring a consistent experience across all product lines and geographies. We are looking forward to many years of success together."