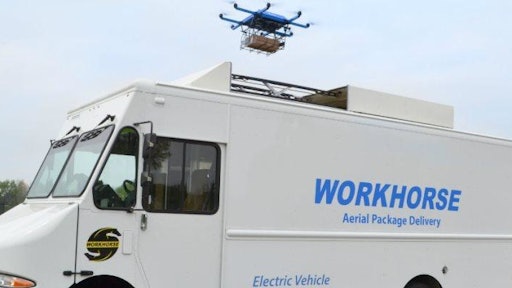 As e-commerce continues to boom, companies across the country are still determining the best way to deliver packages to consumers in the short time-frame that is advertised.
Using drones to deliver packages has been an idea that companies from Amazon to Airbus have been discussing, but Workhorse Group has started doing it on a small scale.
Digital Trends reports that residents of Loveland, Ohio can now choose to have their packages delivered by drone. According to the publication, the drones are summoned by using a dedicated app connected to an existing e-commerce platform. Customers can also use the app to set a delivery location, track the package delivery and receive photographic confirmation when its delivered.
The drones used in the pilot program are octocopters with carbon fiber construction, autonomous GPS navigation capability and infrared cameras used for landing, Digital Trends reports. Workhorse says that the HorseFly drone can deliver 10-pound packages, fly at a top speed of 50 mph and stay airborne for 30 minutes at a time.
Initially, the drones will launch from Workhorse delivery vans' roofs in part of its last mile delivery system. Once the machine is done dropping off a package, it will return to the van to recharge. Digital Trends reports that remote observers will monitor a video feed of each delivery to judge the effectiveness and safety of it, and drones will also remain in line of sight at all times. According to Workhorse, the drones will help the company save money.
According to Digital Trends, Workhorse has tested drone delivery last year when it teamed up with UPS for a small-scale test.