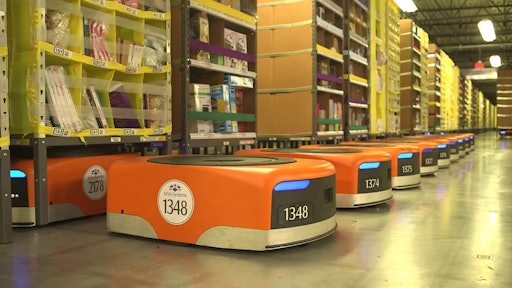 As Amazon continues to lead the e-commerce boom, the company it turning to automated warehouses to help meet its massive fulfillment demand. Though, human employees are still crucial to the process, Technology Review reports.
More than 100,000 robots fill Amazon's warehouses, carrying inventory around the massive layout, compiling all the items for a customer's order and reducing the need for human interaction. Technology Review reports that the robots are enhancing human efficiencies, not eliminating them.
Currently, the company employs over 500,000 companies, according to Technology Review. Chief technologist of Amazon Robotics Tye Brady views the robots as a necessity to the company's growth.
Across the warehouse, humans still provide necessary skills during the fulfillment process. Human still have the advantage of skills like dexterity, adaptiveness and simple common sense.
Technology Review reports that since the robots haven't caused any layoffs, the company's high-efficiency automated fulfillment efforts have contributed to a large amount of retail job losses, most affecting women. Amazon's new cashierless grocery store may also have the potential to reshape retail employment.