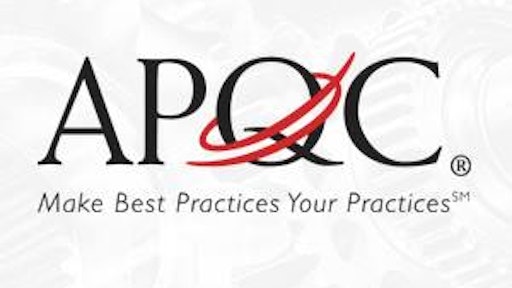 Houston—April 3, 2016—American Productivity and Quality Center (APQC), the benchmarking, best practices, process and performance management authority, launched its cloud-based business process tool, MosaiQ. Designed to simplify business process management for organizations of all sizes, MosaiQ enables users to measure, manage and learn about their organization's business processes, and to quickly create, and even export, custom frameworks that scale and mature as their business evolves.
"MosaiQ offers APQC members a streamlined way to quickly access all of APQC's process frameworks, benchmarking data and best practice research," said John Tesmer, director of Open Standards Benchmarking for APQC. "The tool is included as a membership benefit for APQC members."
With MosaiQ, users can upload and access their own documents, benchmarks, metrics and best practices, as well as tap into APQC's Knowledge Base, and its links to thousands of documents on best practices and other content, in addition to its Open Standards Benchmarking database. The tool is preloaded with APQC's cross-industry Process Classification Framework (PCF) and 18 industry-specific versions.
"APQC members can securely create process models, and upload related policies, process diagrams and other relevant content directly to MosaiQ. I expect that individuals will find MosaiQ easy to use and that it adds significant value to their process management capabilities. MosaiQ will become the standard repository for organizations to collaborate, modify and improve their processes," Tesmer continued.
Organizations can quickly drag and drop process elements to create custom frameworks, and users can model their organizational structure and map it to their process framework to better understand performance. The MosaiQ tool helps organizations:
Measure performance and benchmark against the world's largest database of performance metrics.
Manage critical process-related content.
Learn from

APQC's

best-practice research and Knowledge Base content.
Create a common language for business processes that enables companies to quickly and easily measure, manage and learn about their business processes.
Quickly solve business problems.
Centralize information to help with certification efforts and quality management programs, such as ISO and Baldrige.
APQC will offer limited access for nonmembers in late summer for a fee of $50 per month per user. The tool will feature APQC's public frameworks and research, along with the ability to upload user content. Access to APQC benchmarks and metrics will be available on an a la carte basis.
Developed with Industry Leaders
Executives from more than 20 global organizations serve on the MosaiQ Advisory Council, having participated in beta testing, and provided insight and strategic direction on the tool's development. Organizations represented include:
adaQuest.
DesJardins Financial Group.
Project Consulting Group.
Alberta Health Services.
Hospira Inc.
Rockwell Collins.
Allegient.
State IT Agency.
Astra Zeneca.
Logintrans Sp. Z o.o.
TD Williamson SA.
BPM-D.
Unicomer Group.
Capricorn Investments.
Wipro Technologies Limited.
Chevron Corporation.
Moen.
"MosaiQ encompasses more than a platform that responds to process management and alignment to APQC's seven process management tenets. It represents a flexible application that can be customized to business functions of any organization, and in addition, integrate process, knowledge and quality management that leads to performance excellence. The systematic approach in the design enables information to grow, flow and create value," said Daniela Robu, director of knowledge management infrastructure, Alberta Health Services.
"What interested me about MosaiQ was its ability to do the work we needed in a cloud-based environment, where we could pull in a framework or pieces of multiple frameworks as a starting point, and click and drop elements effortlessly where we wanted them to make a framework unique to our needs—all using a much more intuitive interface," said Claire Wybrow, enterprise business architect at Allegient.