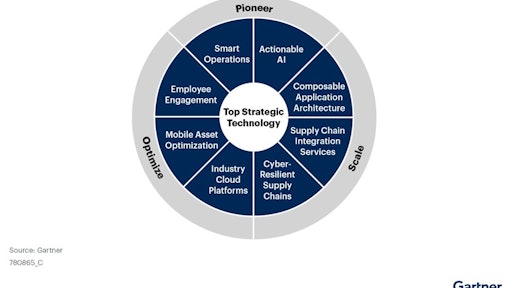 Gartner Inc.
Nearly 65% of respondents to the latest Gartner survey said they anticipate it will be easier to fund new technology investments, with 73% of supply chain IT budgets this year to be allocated to growth and performance enhancements, on average.
"The last three years of uncertainty have blurred the line between business and technology strategies to the point that they must be considered together," says Simon Jacobson, VP analyst in Gartner's Supply Chain Practice. "Supply chain leaders must have an understanding of the strategic, disruptive and unavoidable technologies that will impact their planning processes over the next five years."
From Gartner:
Three key motivations among supply chain leaders help to categorize this year's technology trends are to pioneer new forms of engagement, optimize for resilience and scale performance that enables technology to be delivered "any place and any time."
Top supply chain tech trends entail actionable artificial intelligence (AI), smart operations, mobile asset optimization, industry cloud platforms, employee engagement, composable application architecture, cyber-resilient supply chains and supply chain integration services.