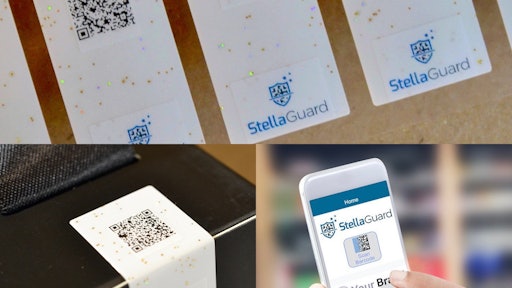 Covectra
Covectra debuted StellaGuard, a smart label and mobile authentication solution that will enable brand managers and consumers to easily and more accurately identify, authenticate and track genuine products.
This highly secure, cloud-based mobile authentication solution protects buyers, identifies illicit sellers, provides universal brand protection and strengthens track-and-trace capabilities.
Doing so also provides an additional layer to the pharma safety chain, as more companies distribute the COVID-19 vaccine, among other drugs and medicines along the supply chain.
"Our StellaGuard smart label and mobile authentication solution provides a new weapon for enhanced counterfeit detection and prevention, and when combined with our AuthentiTrack solution, will provide a comprehensive track and trace program which can be scaled to any operation," says Steve Wood, Covectra's CEO.
From PR Newswire
StellaGuard's authentication system checks for serialization and the use of random numbers and holographic star patterns.
The new label provides a dual layer of protection with a unique, patented, non-reproducible film that combines a serialized QR barcode with a 3D image of holographic "stars" embedded in a random, non-repeatable pattern.
Using any smartphone, consumers simply scan the product's barcode using the StellaGuard mobile app and verify the product's authenticity within seconds.