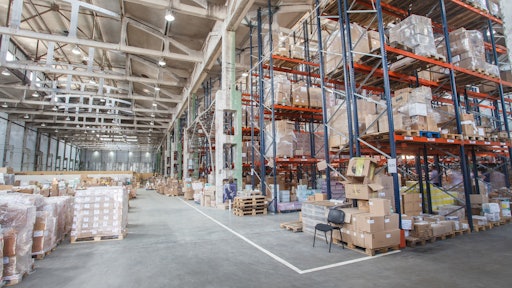 *This content brought to you in partnership with SAP*
There is no question about it. Logistics resiliency is a journey, one that is continuous and constantly evolving, in fact.
No magic bullet exists for logistics resiliency. Instead, logistics professionals across virtually all industries must collect data steadily and consistently, and then adapt accordingly.
The bottom line? According to Rene Vallejo, senior executive, SAP Business Network for Logistics, the journey towards logistics resiliency is a key ingredient for businesses to survive—and thrive—in the current financial and logistical environment. If businesses can't achieve resiliency, they may not be able to accomplish what they could have otherwise.
To achieve logistics resiliency and, in turn, short- and long-term success, Vallejo advises businesses to pursue resiliency through the following three steps.
Awareness. In order to become more resilient, businesses must first become fully aware of their shipments, including their customers' demands, inventory levels, storage space, scheduled product delivery dates (compared to actual arrivals) and customers' opinions, regarding their deliveries.
Awareness, like resiliency, is constant. Various facets of businesses' supply chains must be measured on an hourly, daily, weekly, monthly and annual basis. In doing so, businesses will be fully alert of the positives and negatives of their logistics processes so that they can determine which areas they need to improve upon, along with which areas don't require enhancements as quickly as others.
"Through this awareness, businesses will be prepared for the next step that's involved with logistics resilience," Vallejo says. "And, ultimately, they'll be ready for whatever is to come, including the next disruption that occurs, whether it's a pandemic or something completely different than that."
Visibility. Once businesses measure several aspects of their supply chains, they will then need to use their data. Such data, which they can steadily capture in real time, can be utilized for measurements and comparisons. For instance, businesses can compare inventory levels from one week to the next (or even on a year-to-year basis), as well as the timeliness of arrivals from one month to the next (or again on a year-to-year basis), to visually notice the ways their logistics processes have improved over time, along with the aspects they still need to enhance.
Data can be used to relate businesses' shipments to another aspect of their supply chains too, from distribution, to inbound orders, to production. As this data is related to various aspects of supply chains, a primary goal for businesses is to then utilize the information they've acquired during the first step of the resiliency process.
"Visibility is more circular now than it previously was, as it allows businesses to move from an earlier step in the resiliency process to a later step, such as adaptability, faster than they did before, depending on the real-time data they've acquired," says Todd Simms, vice president, Industry Strategy Manufacturing, FourKites. "By using one platform to visualize every aspect of the data they've received, businesses can then determine what they're going to do with that data, particularly how they will 'action' it to positively impact their bottom lines."
In addition to implementing this data to notice positive financial results, businesses are focused on achieving end-to-end visibility, which Vallejo considers to be "the holy grail".
"For this holy grail to become reality, businesses must understand that visibility, like resiliency, is a journey too, as well as an evolution," Vallejo states. "Many businesses are impacted by network uncertainty, so they're reacting to disruptions every time. Visibility to real-time data will lead to the next step of the resiliency process: adaptability."
Adaptability. Since there is always something occurring in their supply chains, businesses must absorb all that's happening, particularly as they examine the data they've acquired about their supply chains' various aspects. Afterwards, they should apply the information they've received in whichever way they need to for short- and long-term success, while also adapting and striving to improve.
Businesses can improve a wide array of their supply chain processes, particularly whichever aspects need the most enhancements, according to their data collections. Some businesses, for instance, should plan their shipments better in the future, while others may have to reorder certain items more frequently than they previously have.
"During the adaptability step, businesses are in 'see and respond' mode, so to speak," Simms says. "Whether they need to hire employees according to specific characteristics and skills they need, or they have to determine the exact quantity of their resources, businesses must continue to evolve their adaptability. In doing so, they can predict future issues, like staffing challenges, and prevent them."
Previously, many businesses were unsure of how they could transform their supply chain data into insights and soundbites they could use for action, according to Vallejo. But, now, due to adaptability, businesses can "make the data actionable" across a variety of other businesses.
"By connecting and collaborating with other businesses, and then automating and optimizing their networks, businesses will be able to achieve adaptability consistently," he stresses. "And they'll be more proactive, rather than reactive, to challenges."
As a result of these three steps, businesses will have more logistics resiliency for the future, as they apply the new plans they've generated for supply chain enhancements into their specific plans and strategies.
"Resiliency, as a whole, is the balance between cost optimization and customers' expectations. Through continuous resiliency evolutions, businesses can ensure a proper balance," Simms says. "Remember that logistics resiliency is a journey. If businesses maintain constant awareness, visibility and adaptability, they will achieve success, even in the midst of disruptions."
For more information about resilient supply chain logistics, please tune into this webinar recording. Recorded on November 1, the webinar—co-hosted by Vallejo and Simms, along with Rob Haddock, group director, Transportation Strategy, Coca-Cola—also discusses the ways in which SAP and FourKites can help businesses achieve short- and long-term logistics resiliency.
Disclaimer: The opinions provided in this blog aren't shared by Rob Haddock or The Coca-Cola Company.