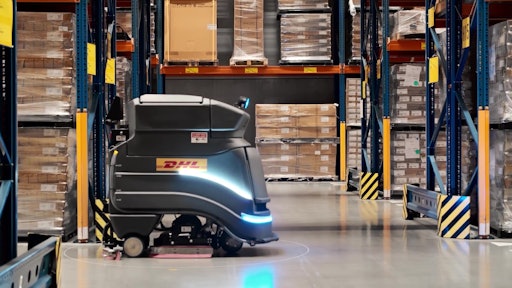 Avidbots
Ask any supply chain executive what factors have had the greatest effect on their business in the past decade, and they'll likely tell you about the unprecedented growth of e-commerce, increased expectations for near-instant delivery and the forced volume and complexity of operations through the expansion of global sourcing. In the wake of the Coronavirus disease (COVID-19), the worst pandemic in the last 100 years, these factors have been amplified. To keep up with the changes, warehouse and logistics managers are being challenged to increase efficiency and productivity — essentially to "do more with less" and at a faster rate than ever before. And, of course, this must be achieved without compromising the health and safety of workers or profitability.
In addition to these challenges, a growing concern is finding enough workers to meet the ever-growing business demands. In fact, labor recruitment and worker productivity were cited as top concerns for 60% of warehouse operators, according to the 2024 Warehousing Vision Study by Zebra Technologies.
There is one solution that can help warehouse and logistics managers address current concerns and tackle future issues—automation. Some tasks are better performed by people, but there are many others that can be automated, allowing the workforce to focus on other business-critical tasks. An example of this is cleaning. A job that was previously considered mundane prior to COVID-19 is now considered both business-critical and potentially dangerous. Automation and robotics are perfect solutions, keeping the workforce out of harm's way while providing a safe, healthy, clean and productive workplace.
Scaling through automation
In fact, the shift to automation and robotics has already begun. Warehouses across all industries and models have adopted automation at an unprecedented pace over the past 5-10 years. A recent LogisticsIQ market research study suggested the global warehouse automation market will grow more than two times from $13 billion in 2018 to $27 billion by 2025. On the other hand, the 2019 Material Handling Industry Annual Report indicates that robotics and automation have the greatest potential to disrupt supply chain practices, even more so than other innovative technologies such as the industrial internet of things (IIoT) and artificial intelligence (AI).
The rise of automation in logistics and warehouse facilities has helped companies improve productivity and reduce costs, making their operations run faster and more reliably. As an example, leading supply chain and third-party logistics (3PL) managers across the globe have realized greater efficiency and productivity by deploying autonomous floor scrubbing robots in their cleaning operations. Every hour an autonomous floor scrubbing robot is cleaning is an hour that the employee can focus on revenue-generating activities.
Supplementing the workforce
Warehouse facility managers are turning to new technology solutions to address the chronic shortage of supply chain talent and help bridge the labor gap. Automated equipment and robots are able to perform repetitive or potentially dangerous tasks, such as cleaning, freeing employees to tackle more valuable and complex work. In fact, according to a recent Warehousing and Logistics Robots Report from Tractica, the number of robots deployed in warehouses and manufacturing facilities will reach 938,000 by 2022; an estimated 483% increase since 2018.
At the same time, since the arrival of the COVID-19 pandemic, warehousing and logistic managers have had to re-imagine operations and dramatically up-end their businesses, creating new social distancing protocols and staggered work shifts. This is leading to a reduction of workers, and that's not even considering the productivity and staffing challenges associated with forced shutdowns to help mitigate the spread of infection. The pandemic has underscored the need for automated technology and the benefits it can bring to help supplement workforces across the globe.
Keeping cleaning productivity top of mind
The COVID-19 pandemic has impacted all aspects of life across the globe and the supply chain is no exception. It's being impacted in a variety of ways including the heightened awareness for regular, consistent and measurable cleaning. To keep up with the increased demand brought on by a boost in online shopping, the health and safety of the warehouse workforce are paramount.
Autonomous floor scrubbing robots are being used across the globe in higher numbers than ever before. It is expected that the United States will need an additional 1 billion square feet of warehouse space by 2025. Add a global pandemic with an increased need for consistent, regular cleaning and sanitizing, and it begins to feel insurmountable. With huge expanses of floor area, regularly sanitizing requires a multitude of people.
With an acute shortage of qualified workers in the logistics and supply chain industry, hiring personnel to keep up with cleaning demands is no longer a viable option. For warehousing operations, automation and robots are solutions to increase productivity and quality cleaning while helping to mitigate cost pressures.
Mitigating worker risks
Autonomous solutions are also protecting workers beyond COVID-19-related issues. Warehouses are intrinsically high-risk environments with blind intersections and narrow passageways. People, forklifts and other equipment are moving continuously around a noisy, crowded space, 24 hours a day. One reason why 3PLs and warehouse operators are deploying autonomous solutions throughout their networks is their ability to safely, autonomously navigate and perform a variety of tasks within these busy, industrial environments, reducing the risk of injury to employees, customers and visitors.
Alongside protecting the welfare of employees, deploying autonomous robots makes financial sense, as workplace injuries inevitably lead to the loss of production days, especially in fast-moving environments like warehouses. The risk associated with some of these injuries can be mitigated by employing automation, such as cleaning robots. Automated cleaning solutions are able to regularly and consistently ensure a cleaner working environment, ultimately reducing the number of slips or falls while minimizing dust and other particles in the air that workers could breathe in.
As the modern supply chain accelerates in pace, warehouse facility managers across industries face the challenge of delivering greater efficiencies and higher productivity, while maintaining first-class operating standards. The pandemic has reaffirmed the benefits of automation for many, yet has served as a wakeup call for others that have been slow to adopt the technology.
For decades, automation has unlocked significant financial and operational benefits. But, today, leading facilities are now turning to autonomous cleaning solutions to unlock new operating efficiencies while reducing cost and improving warehouse safety.