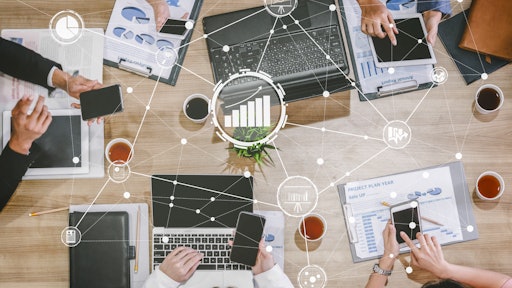 Blue Planet Studio/stock.adobe.com
Technology continues to transform supply chain operations at a rapid pace. A broad range of new technologies and systems are emerging to enable further digitalization of the end-to-end supply chain, which is reducing costs, improving service levels and enabling the visibility required to optimize performance.
However, given the multitude of new technologies and the increasing complexity of today's supply chains, the process of technology selection, integration and optimization can be overwhelming. Additionally, digitalization in the supply chain is happening so fast and on so many fronts, it can be challenging to keep pace.
Embracing the next frontier in supply chain optimization
Digitalization represents the next frontier in supply chain optimization. It is reshaping processes throughout the supply chain and creating opportunities to reduce costs, improve service levels and adapt resources within an increasingly challenging labor market.
Disruptive technologies in the physical world – e.g., next-generation robotics and autonomous vehicles – are now integrating with big data analytics, sensors, and other applications. This integration is disrupting the traditional, linear supply chain model, "transforming [supply chains] into connected, intelligent, scalable, customizable, and nimble digital supply networks," says consulting firm Deloitte. "Digital supply chain management now includes gathering insights from distributed data, sensors, and connected assets to drive actionable improvements via advanced analytical and digital solutions."
The foundation for this continuing evolution is already in place through the software platforms that control the flow of inventory within distribution centers (WMS) and digitize transportation processes (TMS). Now, the opportunity exists to build on this foundation to further realize tangible benefits and continue to evolve the supply chain.
Companies that successfully deploy supply chain digitalization stand to reap tremendous benefits. Successful supply chain digitalization requires tighter integration of a growing suite of software platforms and tools and expertise in implementing new technologies into the supply chain, warehouse and transportation processes.
To ensure you achieve your digitalization goals and realize the needed ROI, it is important to have a proven, strategic process in place that provides a roadmap for identification, deployment, enhancement and expansion of the technologies that best fit your applications, operational objectives and corporate strategy.
Creating an innovation funnel for supply chain technology
DHL Supply Chain works closely with established and emerging technology companies to foster continuous innovation and create a competitive advantage for our customers. We have a proven process we put into action when assessing and integrating leading-edge technologies, such as automation and robotics, ensuring they bring value to operations. This includes a thorough examination of the available technology, its operation and potential use cases throughout the entire supply chain.
Here are the main steps of our process for evaluating and piloting emerging technologies to streamline and accelerate their application for accelerating supply chain digitalization.
First, we consolidate key metrics for all the warehouses we manage into a centralized database. This allows us to quickly profile use cases across the various processes in different warehouses and easily identify specific warehouses and processes where a new technology will deliver value.
We meet regularly with emerging technology companies, often early in their development stages, to determine the viability and applicability of their solutions. With technologies that show promise, we work with the solution provider to bring essential supply chain expertise to the development process.
Once we have established viability and gained an understanding of the value of a specific solution, we use our database to identify the sites that would be a good fit for a particular technology.
If the solution shows promise and has a clear use case, we develop a small-scale pilot application of the technology. We collaborate closely with the vendor and our customer throughout the pilot to ensure safety and optimize the solution based on the process. Our industrial engineering, safety and operations specialists closely monitor the pilots to identify any required changes to workflow and to evaluate ROI.
If the pilot is successful, we enter an agreement that leverages our size and scale and utilize the solution across our sites.
Through this process, we've successfully identify supply chain technologies that have the most potential to lower operating costs and enhance service levels.
Learning from your technology deployments
Based on our commitment to the digitalization of the supply chain, we are currently focusing on twelve technology categories. As part of our established, systematic approach, we put together a playbook for each technology that is shared throughout our network of sites to provide a blueprint for deploying the technology.
Here are two recent examples of our successful use of these playbooks and a few of the learnings shared as part of the roadmap as we expand the use of the technologies throughout our supply chain networks.
Autonomous forklifts
Last year DHL Supply Chain announced its first North America deployment of autonomous forklifts in the warehouse. After identifying pallet movement in our facilities as an excellent candidate for automation, we determined that autonomous forklifts could increase the efficiency, accuracy, and safety of double-deep pallet putaway and retrieval tasks without requiring any significant changes in the infrastructure. The deployment involved designing a new process for how products flow in the warehouse, creating a manual-to-autonomous handoff zone between pallet storage and receiving and shipping.
Based on that pilot installation, the following are a few of the learnings in the corresponding playbook to ensure similar successful installations across our facilities.
Know your forklifts and how they are being used to move pallets around your facility so you can identify tasks that are ideal candidates for automation.
Consider the workforce and determine where warehouse employees might be relieved of non-value tasks by autonomous forklifts to focus on more strategic and value-adding tasks that enhance operational performance.
Be prepared to make changes to established processes and workflows, by modifying existing ones or adding new ones to ensure the automation technology is seamlessly integrated without negatively impacting your ROI timeline.
Update training and safety programs accordingly to ensure standards are maintained and any safety concerns are quickly identified and addressed.
Determine the metrics and data that will be used to measure the installation's success and the technology's performance, while also having a plan to share that information internally and to adjust as needed.
Assisted picking robots
DHL Supply Chain recently announced that it had surpassed 100 million units picked in its North American facilities by LocusBots from Locus Robotics. The milestone was achieved by more than a dozen DHL sites in North America, using more than 2,000 LocusBots – more than any other contract logistics company.
This unrivaled implementation and productization of assisted picking robots have followed the playbook we developed for the deployment of this technology. Here are a few tips included in that playbook based on the insight gained from our deployment experience.
Consider the items to be picked, including size, weight and shape, to ensure they align with the capabilities of the assisted picking robots.
Decide how the items will be picked and placed, noting the type of containers that can be used, special packaging and handling requirements, and the most frequently purchased items.
Determine the picking workflow patterns that work best with your application, order mix, storage strategy, seasonal demands, and the items to be picked, while reducing travel time and maintaining the needed throughput.
Give thought to the workspace the robots will occupy, removing any barriers, providing ample room for the robots to operate, allocating the necessary space from your existing warehouse and restricting access to the area if required.
Integrate the assisted picking robots with warehouse IT systems and software, including WMS and ERP systems, noting any needed APIs to help drive workflow, track progress, and identify exceptions.
The rise of e-commerce requirements (faster delivery, more SKUs and increased order picking), combined with labor shortages across regions and sectors, indicates rapid adoption of technology is more necessary than ever.
While a broad range of technologies and systems are emerging to enable supply chain digitalization, the process of technology selection, integration and optimization can be overwhelming. Having a proven process in place, including a playbook of best practices and lessons learned, can help you identify and deploy technology that delivers tangible benefits and advances your supply chain digitalization efforts.