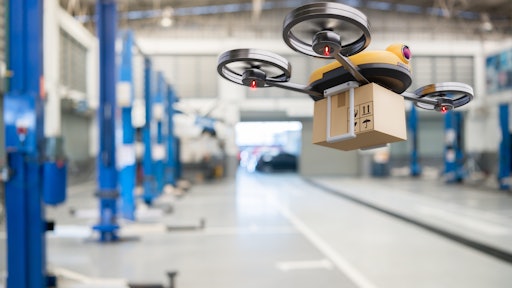 Shutter2U/stock.adobe.com
Drones aren't new, and until recently, their mention was reserved for military discourse or science fiction discussion. Flash forward to today and they have entered everyday conversation, not just as popular gifts for the holidays but as an alternative mode of transport for last mile logistics.
Last mile, need for speed
As e-commerce continues its march towards becoming the preferred shopping method across the globe, it's become clear online consumers demand faster, cheaper, more flexible and more sustainable deliveries. Retailers providing such deliveries can realize competitive advantages - such is the case with Amazon's meteoric rise in recent years, a pioneer of low-cost 2-day and same-day delivery.
The key to a good delivery experience lies in the last mile, the costliest and most complex leg of the entire supply chain which, by some estimates, makes up 53% of the total cost of delivery. With traffic congestion costing billions in productivity and gumming up delivery routes, driver shortages across the globe and growing concern among consumers for eco-friendly deliveries, the last mile has become even more arduous.
Enter the drone. Drones can zip over traffic, don't require drivers and emit zero fossil fuels. Moreover, drones can deliver parcels 20 times faster than ground-based transportation, according to Vikram Singh, CEO of TechEagle.
Household names like Walmart, Amazon and Google, among others, have made it known they're working towards making drone delivery a reality, with the help of partners rolling out drone testing programs across the world.
But will drone delivery enter the mainstream market or is this all just hype?
Where are the drones?
Jeff Bezos shocked the world when he introduced drone delivery back in 2013, and it has been the "next big thing" in delivery management for almost 9 years now. Understandably, people wonder when it will reach scale and apply to the general public. There are a few reasons for its slow roll out:
Investment
Drone delivery requires a substantial capital-intensive investment in order to establish a successful program. It needs everything from regulation compliance to drone maintenance investment. It's easier for larger companies to invest in these areas, though it's much harder for smaller enterprises to establish a delivery program and achieve scale. Companies can more easily reduce shipping times by a day or two with route optimization or warehouse management, making drone delivery an added bonus to speed up delivery but not a necessity. If a company has limited resources to invest in R&D or new technology, they'll go with what they can control now.
But even large companies with the capital means to invest in drone delivery have had to call it quits. Amazon closed its Prime Air office in the UK in 2021 and DHL abandoned its parcel-copter program the same year.
Delivery Cost
In addition to the initial investment drone delivery requires, operating costs are not cheap. Amazon estimates it costs roughly $63 per package to be delivered by drone. Compare that to the retailer-turned-logistics company's cost of delivering goods through third-party logistics (3PL) companies at around $5 per package. Delivering through its own logistics network costs $3.47 per package. For a lean, logistics-focused company this cost is huge, indicating drone delivery may be best suited for affluent consumers and high-value or time-critical products. Zipline, a drone delivery company, was able to deliver life-saving medical supplies to rural areas of Rwanda and Ghana, reducing delivery times from 4 hours to 20 minutes. Deliveries like these justify the cost.
For companies focused on reducing shipping costs for consumer retail items in the last mile, drones may not be the answer just yet.
Urban airspace
Urban areas dense with consumers may seem like a perfect environment for drone delivery to take off, but that isn't really the case. Drone deliveries in dense cities like London or Tokyo may prove challenging as safe, consumer-owned landing zones such as a backyard are limited. Coupled with tall buildings complicating low-level flight with government regulated airspace around cities and large airports, urban drone delivery becomes a bit more challenging. Washington D.C, one of America's densest urban areas, has some of the strictest airspace in the world. Until these navigational and regulatory hurdles can be overcome, drone delivery in consumer-rich environments may be off the table.
Large item delivery
Delivering small, lightweight items via drone is rather feasible. Delivering large or heavy items like a new flat-screen TV or leather couch is not. Aerodynamics aside, in the U.S., drone operators are limited by the FAA to carrying cargo weighing under 55 pounds. This limits the use of drones and inhibits drones from stacking orders and making multiple deliveries in one run.
On the other hand, TwinswHeel of France created a drone capable of carrying up to 300kg, but it doesn't yet have the ability to deliver a sofa to a consumer's home.
Safety
Drones, as with all modes of delivery transport, pose safety risks to those around them. But because drones are new and driverless, they are getting extra attention. The Swiss Post suspended drone delivery service after a drone crashed near a group of school children following a short circuit interrupting the drone's GPS power supply. Threats to drone safety range from mechanical malfunctions, adverse weather conditions, birds or perhaps an unsuspecting dog - they've always had a rocky relationship with the mailman.
As with any new technology, safety and public trust take time to prove.
Drones Today
Consumers see remarkably little of the planning and research logistics firms do behind the scenes, and drone delivery is currently happening just not in the way consumers think. Right now, drones are not being used to deliver apparel in lucrative, urban consumer markets, but in B2B segments and for emergency and time-sensitive deliveries in more rural areas. For consumer retail companies seeking efficiencies in the last mile, their dollars may be better spent elsewhere in 2022.
It's worth noting, however, that less than a third of last year's automated deliveries worldwide were made by air. Until drones gain widespread adoption, it may be more likely for mainstream autonomous deliveries to come from below rather than above.
Widespread adoption
It is reasonable to predict drone technology will reach widespread consumer scale in 3-5 years as initial technology investments are refined, government regulations rewritten, and operation costs come down.
The key to getting all of these accomplished is to build further upon where drones are today.
Current drone technology must be made more accessible, incentivizing drone delivery usage and investment in its development. Companies operating drones today will find the profitability sweet spot of the products best suited for drone delivery based on size, demand and timeliness. As the technology reaches scale and delivery costs become reasonable, expect drone usage and the product assortments they carry to expand - from standard pharmaceutical deliveries to food deliveries and online retail deliveries. Large item deliveries, however, may be a ways away.
Drones will have the greatest impact in geographies where it's difficult for delivery trucks to navigate and troublesome to decipher specific addresses, a common environment found across many parts of Asia. Look up and look East in 2025.