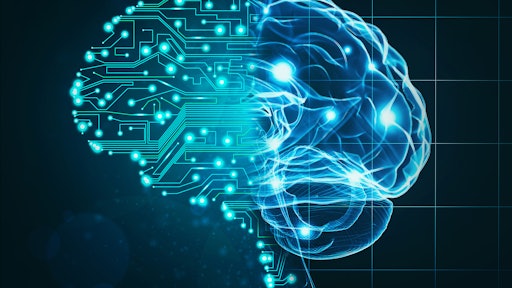 Getty Images
Achieving true end-to-end supply chain visibility relies largely on digitally connecting things and data as a first step. Robust, secure cloud technology combined with artificial intelligence (AI) and other emerging technologies are working together to develop next-gen supply chains with a host of features and capabilities.
"The potential for new technologies to transform the supply chain and deliver real-time visibility is powerful," notes Kaushal Dave, vice president, solutions development and customer engagement for Aera Technology.
"We pioneered cognitive technology for the self-driving enterprise, which taps into machine learning, deterministic learning, deep learning and the like, to think, learn and refine the cognitive skills built on top of the platform in real time," says Dave. "These powerful cognitive automation capabilities can be applied to all supply chain processes, from demand and supply forecasting to inventory optimization, manufacturing performance, procurement automation and supplier reliability assessments."
Dave describes the technology this way: "Aera understands how businesses work, makes real-time recommendations, predicts outcomes, and acts autonomously. Aera's data crawler (patented real-time crawling technology) collects, indexes and harmonizes billions of data points from complex enterprise systems and external data sources. Its processing engine analyzes data continuously to detect business risk and opportunities, utilizing decision trees and algorithms to recommend the best course of action. Based on your response, it learns what works and what doesn't. It will evolve to take action autonomously."
Meanwhile, with regards to IoT, Dave explains that, "For all its potential value, IoT data won't fulfill its promise unless it can be swiftly captured and analyzed as part of the end-to-end supply chain. AI-powered cognitive automation provides a powerful means to achieve that goal as the volume, velocity and variety of supply chain information— including sensor-based IoT data—continues to grow."
For all the benefits of IoT and cloud technology, as well as the host of emerging technologies that together are driving supply chain visibility forward, issues like IT resiliency and disaster recovery are equally important.
"Reliable data visibility and the ability to communicate bi-directionally with IoT objects creates a dependence on having that data and access to those workflows for everyday life and business operation," says Todd Matters, chief architect and co-founder of Rackware.
"With the explosion of new apps and data, traditional disaster recovery and business continuance are simply too costly," he says. "For example, the cloud can provide a longer recovery time at a low cost or a better recovery time for a higher cost."
Combined with modern backup and disaster recovery software like Rackware, "the cloud is the perfect technology to bring levels of disaster recovery granularity to meet a wide variety of needs," Matters adds.