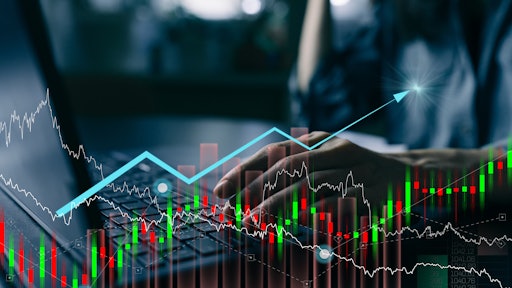 Leonid AdobeStock_501221203
The GEP Global Supply Chain Volatility Index fell from -0.18 in August to -0.35 in September, with a sharper increase in excess capacity across the world's supply chains, according to new statistics from GEP.
Europe was the principal driver of September's sharper rise in idle vendor capacity, with suppliers to the continent registering one of the highest levels of spare capacity since the global financial crisis between 2008-2009 amid considerable weakness in demand, thereby signalling elevated recession risks.
In stark contrast, excess supplier capacity within North America rose by its smallest margin since April, signaling increased odds of a soft landing for the U.S. economy. Although demand remains under pressure, the decline is slowing, and some companies are reporting price increases from their vendors.
"We're now into our sixth consecutive month of notable excess supplier capacity globally, but the good news is it's not getting substantially worse, except in Europe, where recession seems likely. By contrast, we expect U.S. suppliers and businesses to be steady for the rest of the year, unless the labor disputes in health care and the auto sector spread, or there is a price spike in oil, its derivates or agricultural commodities," says Jagadish Turimella, COO and co-founder, GEP.

Key takeaways:
After displaying relatively greater resilience in the year-to-date, Asian suppliers reported greater spare capacity for the first time since July, reflecting a slump in purchasing activity. This suggests manufacturers in the region are preparing for lower production schedules.

While the downturn in demand for raw materials, commodities and components appears to be stabilizing, the pace of decline is showing no real signs of slowing as purchasing activity fell again at a similar rate to those seen in the summer months.

Global businesses continue to shy away from stockpiling, indicating a generally pessimistic outlook for demand.
Supply shortages have ended, with reports of item scarcity now in line with historically normal levels.
Labor shortages remain generally unproblematic for global businesses. Some of the issues manufacturers in Europe and North America experienced with respect to staff availability in August receded in September.

Global transportation costs fell in September following August's renewed rise, albeit only slightly.