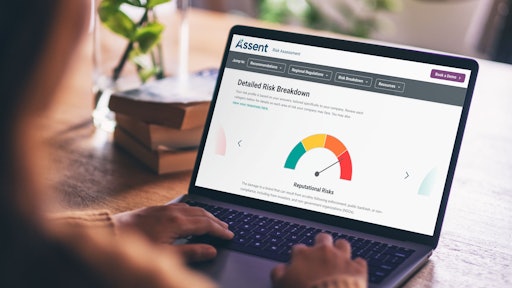 Assent
Assent Inc. launched a new Supply Chain Risk Assessment Tool for Complex Manufacturers, which consists of an educational self-assessment that provides manufacturers with insight into critical regulations and requirements.
"The regulatory landscape is becoming more complex every day and the urgency to take action is paramount. Manufacturers with global supply chains must implement proactive compliance programs to mitigate the severe business risks associated with non-compliance," says Andrew Waitman, Assent CEO. "Today, we announced our new risk assessment tool, which is an essential step for manufacturers to identify where to focus their supply chain sustainability program. We are seeing great momentum across the industry as companies continue to partner with us to proactively reduce their risk and ultimately gain a competitive business advantage."
Key takeaways:
Assent's

Supply Chain Risk Assessment enables manufacturers to better understand regulatory risks impacting their supply chain and obtain high-level guidance for where to start to mitigate them.
"Regulations were already overwhelming for manufacturers to manage, but as new rules emerge quicker than ever, product compliance is becoming an increasingly complex business challenge and risk," says Cally Edgren, senior director of sustainability at Assent. "The question is shifting from 'do we have risks?' to 'where are our risks?' and as manufacturers look to their supply chains for data, they are quickly learning that transparency doesn't happen overnight. This new tool provides companies with a critical first step to effectively engaging supply chains to manage new risks."