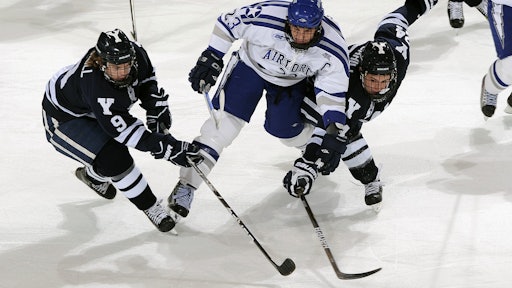 The National Hockey League is experiencing a hockey stick shortage as coronavirus continues to spread across the globe.
According to CBS News, there has been 43,708 confirmed cases of the virus and 1,018 people have died.
Nearly 75% of sticks used in the NHL come from Chinese factories, with Bauer, CCM and True Hockey all getting products and components from the country.
The city of Wuhan - a major industrial and transport hub in China - has been placed on quarantine since Jan. 23 to help prevent the spread of the virus. However, severe disruptions to supply chains have already went into effect.
Disruptions to inbound and outbound air cargo shipments, trucking and rail cargo services, and port congestion near Wuhan will persist as the outbreak continues. According to Resilience360, regional lockdown has already impacted logistics operations that rely on access to highways to carry goods into and out of the region.
The NHL hasn't received a new shipment of sticks since January, and equipment managers are now informing the league that there is a "major shortage."
"I've been kind of looking for some, and I think they're kind of slowed up a bit for obvious — for a good reason," Boston Bruins forward Charlie Coyle, who uses CCM sticks, told the Boston Globe. "So I am trying to make do. Trying not to break too many right now."
Professional hockey players reportedly have three sticks available to them every time they step on the ice. Today's sticks are tightly woven, glued and pressed layers of composite fibers, according to the Boston Globe. The force produced by slap shots and other movements causes those fibers to crack, fray and eventually lose their strength. It is possible that a player can go through a half-dozen sticks in just a single game.
Given the shortage, players are reportedly limiting the number of sticks they use throughout the game. One equipment manager has told players to use one-stick per practice and two for games.