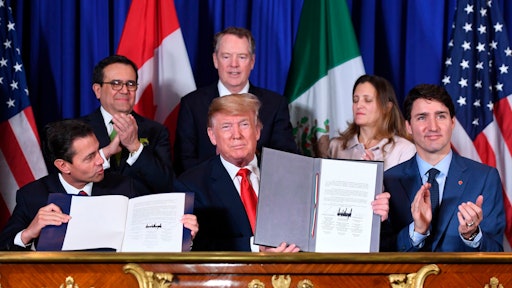 Donald Trump, Canadian Prime Minister Justin Trudeau and Mexican President Enrique Pena Nieto signed the U.S. Mexico Canada Agreement (USMCA) on Friday, officially replacing NAFTA. 
CBC reports that Canadian officials made it clear they didn't want to end the year with the U.S. attempting to twist the country's arm while steel and aluminum tariffs still in place. However, the countries agree that there will be benefits to the new deal, with Trump claiming "it is probably the largest trade deal ever made."
USMCA will replace NAFTA, which had created a free trade zone between the three countries, NPR reports. However, the deal with require ratification by allt hree countries' legislatures before taking effect. 
The deal first emerged in October, just seven months after the U.S. hit Mexico and Canada with steep tariffs on steel and aluminum, causing the countries to set off retaliatory tariffs on their own. 
Trudeau noted that there was still more work to be done with the trade agreement, calling it the "new North American Free Trade Agreement" rather than its new name. He addressed GM announcing that it is planning on closing plants in Canada and the U.S. due to tariffs, calling it a "heavy blow" to each country's economy.
According to NPR, Pena Nieto said the trade agreement includes provisions for e-commerce and informational technology that needed to be updated. Additionally, protections for workers' rights and the environment are also benefiting from free trade. 
USMCA is just the first step in making the trade fight better. Trump will be having dinner with Chinese president Xi tonight Jinping to discuss trade tensions between the two countries.