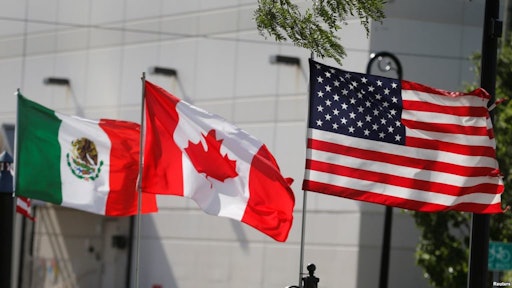 The U.S., Canada and Mexico have struck a new trade deal to replace NAFTA. Known as the United States-Mexico-Canada Agreement (USMCA), the new deal has prompted Donald Trump to say that it is "the best deal ever."
The new deal has made major changes on vehicles and policies on labor and environmental standards, intellectual property protections and some digital trade provisions.
Now, automobiles must have 75 percent of their components manufactured in the three countries to qualify for zero tariffs, and 40 to 45 percent of automobile parts have to be made from workers who earn at least $16 an hour by 2023. Vox reports that Mexico has signed on to pass laws that will give workers the right to union representation, extend labor protections to migrant workers and protect women from discrimination. 
The deal also extends the terms of copyright to 70 years beyond the life of the author, and will extend the period that a pharmaceutical drug can be protected from generic competition, Vox reports. 
Now that the deal has been negotiated, it just needs to be approved. Trump, Canadian Prime Minister Justin Trudea and Mexican President Enrique Pena Nieto plan to sign the agreement before Nieto leaves office at the end of November. 
However, it is unclear whether Congress will consider the deal until after the midterm elections. If Democrats take control of the House or Senate they may not give approval.